You Can Improve Your Sound By Upgrading
One of the best ways to improve the sound coming out of your speakers is to upgrade to a better phono cartridge. There is a couple of reasons why you might need to replace a phono cartridge. Often times wear and tear (yes, the stylus does wear out) or wanting to upgrade to a better phono cartridge is why most people buy a new phono cartridge.
Even if you have an entry-level or mid-level turntable you can vastly improve the sound by upgrading your phono cartridge. Some of these budget entry and mid-level turntables can really sound a whole lot better especially if it has a good tonearm. Some turntable manufacturers don't always put in the best cartridges and often times they cheap out on the cartridge to keep the price of the turntable low.
So, if you are tired of your current cartridge and searching for better sound quality from your system upgrading your phono cartridge might be the answer. I will list some of the best phono cartridges for under $500.00.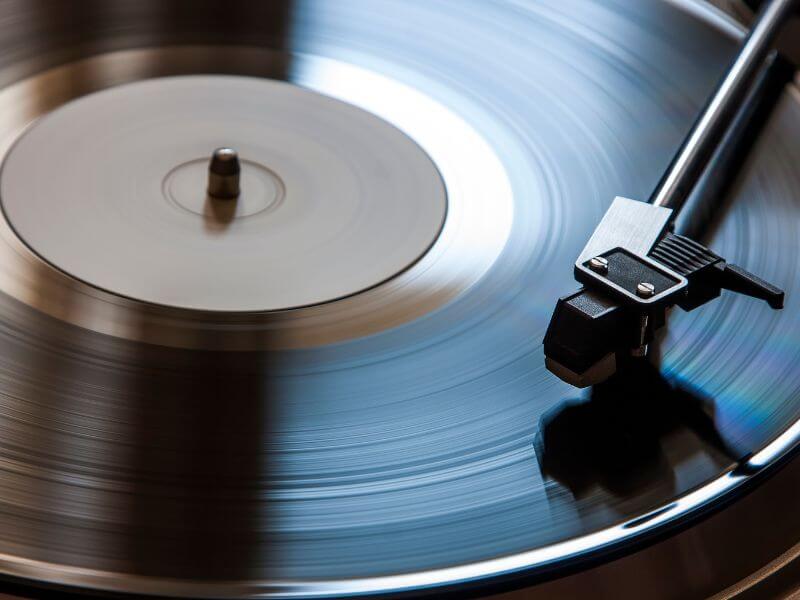 Thankfully phono cartridges come in a very wide range of prices. But we are going to be sticking to a cartridge that is under $500 clams. Keep in mind you can even go quite a bit lower in the price for a cartridge and still see some improvements.
My Experience
Why I think $500.00 price and under is the sweet spot is you don't have to sell a kidney to purchase one. I know I have experienced improved sound and am really happy with upgrading my phono cartridge. As I bought a Music Hall 2.2 turntable around 10 years ago and by no means is it an audiophile's turntable, it does produce decent sound and very listenable music (something I highly value) and it does have a pretty decent tonearm (I believe it is a Project arm). The stock phono cartridge that came with this turntable is okay (Goldring Elan) but I want more. As I know there is more to be had…
The search for better sound is always going on with me, even with a limited budget. Especially when deciding to purchase albums or new equipment (albums usually win out, at least for me they do). The thing about buying a good phono cartridge too is that you can always transfer that phono cartridge to another turntable if you upgrade to a different turntable later in the future.
Some Main Points To Consider
Type Of Cartridge – Either Moving Magnet Or Moving Coil
Who Is Going To Be Changing The Cartridge You Or Someone Else?
Price
Moving Coil or Moving Magnet? What Is The Difference
Maybe you know or maybe you don't but there are two types of cartridges, the moving magnet (MM), and the moving coil cartridges (MC).
Basically moving coil cartridges need more power and amplification because the coils are smaller than moving magnets cartridges. Also moving coil cartridges require more engineering and are more specialized. Thus they cost more money than moving magnet cartridges do.
I personally have a moving magnet cartridge that I upgraded to and I just love it. I just can't afford the higher prices of the MC cartridge…yet. But I would also love to try an MC in the future. As generally, people say MC cartridges reveal more detail than MM.
Benefits Of A Moving Magnet Cartridge
Cheaper – Simplier to design and build than its counterpart and is generally cheaper than MC cartridges.
Moderate to high output signals.
Owners can typically change out the stylus themselves with a cartridge replacement stylus. This is a great option if you love your phono cartridge as you don't have to go through the trouble of setting it up again. You simply just swap in a new cartridge replacement stylus with no aligning
More compatible with standard household stereo equipment.
Negatives Of A Moving Magnet Cartridge
Heavier – This can result in a potential loss of detail in the high frequencies of the grooves.
Benefits Of A Moving Coil Cartridge
The mass of the cartridge is much lighter.
Less downward pressure.
More detail can come through the cartridge.
Audiophiles usually want an MC cartridge because they get more detail.
Best sound.
Negatives Of A Moving Coil Cartridge
More expensive.
It needs a phono preamp with an additional gain stage to boost the output signal.
More delicate and easier to damage.
Usually can't replace the stylus.
Who Is Changing The Phono Cartridge?
If you are having someone else install your new cartridge then little additional thought is needed, but if you are going to do it, this opens up a can of worms in itself. As you are going to have to have specific tools to correctly change a cartridge.
There are many other resources available that go into changing a phono cartridges places like YouTube, DVD, and websites. I am not going into how to change cartridges and that is a totally different subject but it is something that needs to be addressed and brought up.
The process can be easy or hard depending on your experience level, your setup, your small motor skills, and your patience. I change my own cartridge and it wasn't that bad of an experience. I have thick sausage fingers which didn't help trying to put those little nuts on. But I did it.
I bought the Hudson Hi-Fi Turntable Cartridge Alignment 3-pc Kit and was very impressed with how well it worked. Highly recommended if you plan on changing your cartridge yourself. As it is quality made and precise.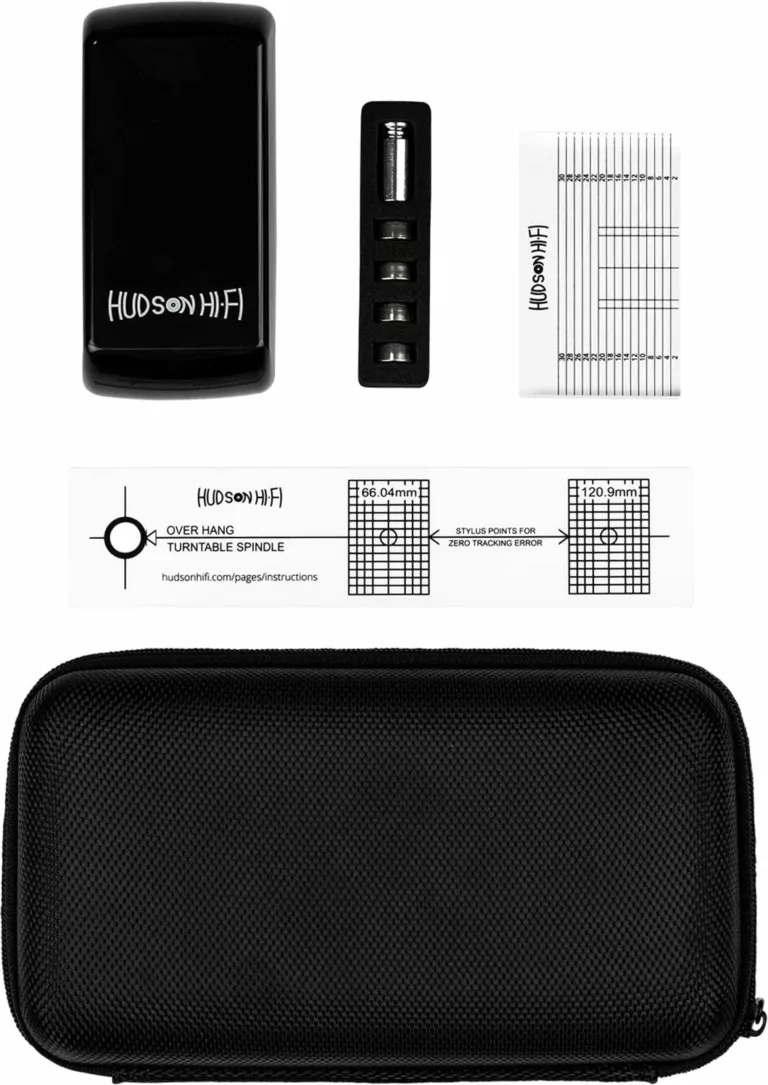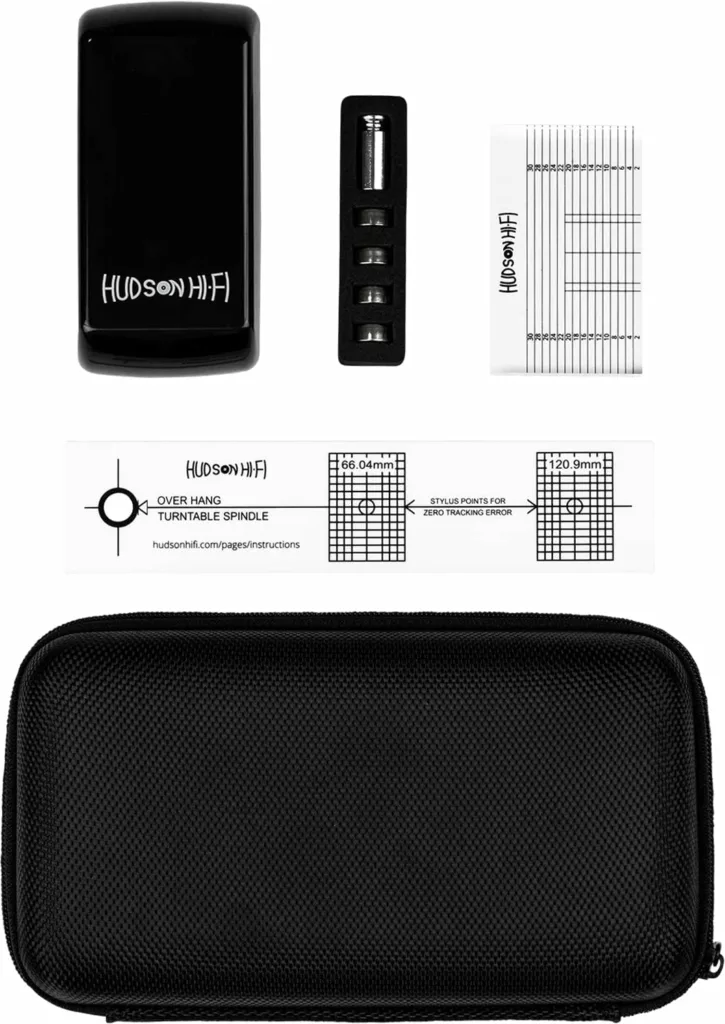 Price
The more you spend the more you get and this definitely applies to phono cartridges. Prices of phono cartridges range from $20 bucks to over $20,000. I think most people do not want to or can't spend crazy money on a new cart or a system, they just want something affordable and great sounding. This obviously depends on your expendable income of course.
Determine where your price point is at and then limit your search to that price range. The further you go up in price at some level you will start to run into diminishing returns for your money. The carts presented here are all currently under $500.00
The 5 Best Phono Cartridges Under $500 Specs
Denon DL-103R
Hana EH
Ortofon 2M Bronze
Nagaoka MP-200
Audio Technica VM740ML
Cartridge Type
Moving Coil
Moving Coil
Moving Magnet
Moving Magnet
Moving Magnet
Frequency
Response
20 Hz to 45 KHz
15-25,000Hz
20-29,000 + 2 / – 0 dB
20 to 23,000Hz
20-27,000 Hz
Output Voltage
0.25 mV
2mV; EL: 0.5mV
5cm/sec. – 5 mV
4.0 mV (5cm/sec)
4.0 mV (at 1 kHz, 5 cm/sec)
Ch. Separation
25dB
25dB/1kHz
26 dB
25dB (1KHz)
28 dB (1 kHz)
Ch. Balance
1db
NL
1dB
1.5dB or less
NL
Stylus Size/Shape
0.02mm special round solid/Diamond
Synthetic Elliptical
Nude Fine Line/Diamond
0.4 x 0.7mil Super Fine Ellipse/Diamond
2.2 x 0.12 mil MicroLine®
Load Impedance
NL
>47kΩ
NL
47K Ω
47,000 ohms
Tracking Force
2.5 +/- 0.3g
2g
1.4-1.7 g
1.5 – 2.0g
1.8-2.2 g (2.0 g standard)
Cartridge Weight
8.5g
5g
7.2 g
6.5g

8.0 g
Cantilever
NL
Aluminum
NL
Boron
Aluminum Tapered pipe
Price
Check Price On Amazon
Check Price On Amazon
Check Price On Amazon
Check Price On Amazon
Check Price On Amazon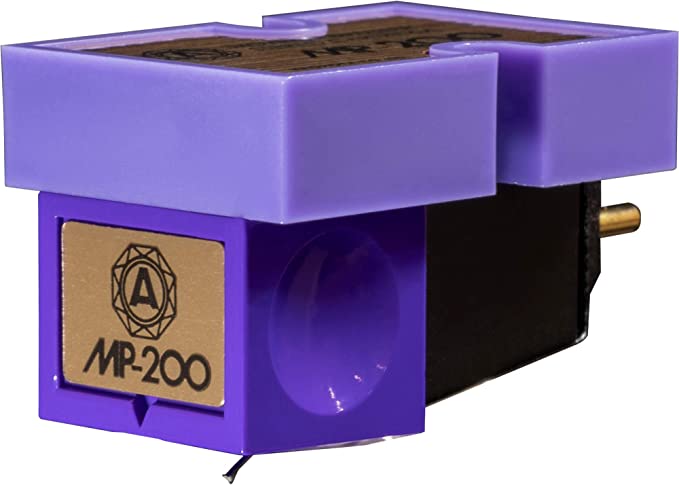 This is a moving magnet cartridge with a super fine ellipse diamond stylus. The plastic body is purple which is unusual in itself. This has a super fine nude ellipse diamond stylus that punches out of its ranking.
I choose Nagaoka MP-200 for my upgrade on my turntable. I was really impressed with the reviews I have seen online both written and videos. Many people rave about this cart and comment that it punches out of its weight class. So, you get more than you pay for, and with that…I am very interested in it.
I love getting lost in a good song or album and the MP-200 does that for me. Such beautiful details that I never heard before and I find listening to records EVEN more enjoyable.
I would like to thank the HiViNyws channel on YouTube for steering me down to purchase this Nagaoka. He hasn't really done any new videos in a while but does provide rock-solid breakdowns and great content.
I would like to state I don't know why I waited so long to update my phono cartridge. My soundstage is better, the music sounds so much better in every way. I mean what a difference from my stock cartridge!!! Money well spent and I couldn't be happier.
I also just love that there is a much cheaper cartridge replacement stylus for the MP-200 (sold separately and more than half the price of the cartridge itself) that can be easily swapped out when the original stylus is worn out with no lengthy cartridge setup needed.
Positives
Great dynamic bass response.
Plenty of detail and high-end without the harshness.
Changing out the stylus in the future when needed is easy. As you can order a replacement stylus that can easily be changed.
Easy to set up and install.
Tracks great.
Big soundstage.
Neutral sound.
Made in Japan. I have always found high-quality craftsmanship from stuff made in Japan. Especially with high-precision products.
Boron cantilever which is found on the higher-end Nagaoka MP-300 & MP-500.
Great for jazz and classical music lovers.
Negatives
Boron cantilever is very brittle (although strong) and can be easily damaged. All styli can be easily damaged and care should be shown with every cartridge.
Towards the high end of the price range.
Nude ellipse stylus.
Moving magnet.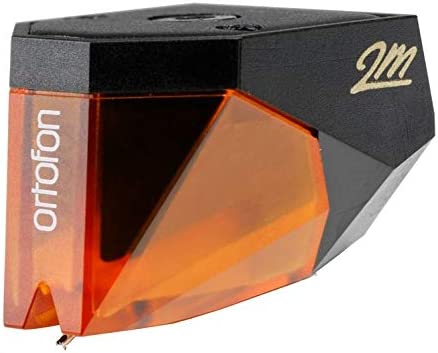 This is a moving magnet cart with a nude fine-line stylus that can really pull detail out of a record. This is the step up from the Ortofon 2M Blue cartridge which is very popular. With a frequency response of 20-29,000Hz.
The design and size of this cartridge are built for easy mounting and to fit most modern turntables today. I was struggling with getting this over the Nagaoka MP-200, it was back and forth but this is also a highly regarded and much-loved cart too.
Positives
With a fine Line diamond stylus that reveals a lot of detail.
Can be upgraded in the future to the Ortofon Stylus 2M Black.
Very high-frequency range.
Good tight bass response.
Great instrument separation.
Fits most turntables and is easy to set up. No nuts to worry about.
Stylus is interchangeable with other Ortofon carts like the 2M black and you can save money without having to buy a whole separate phono cartridge just the stylus. Thus potentially saving you money.
Comes with tools too. Stylus force gauge, stylus brush, two sets of screws (long & short), and a screwdriver.
Negatives
Can be a bit bright sounding and potentially fatiguing to your ears over long listening sessions. Especially in the beginning before the stylus breaks in.
Moving magnet.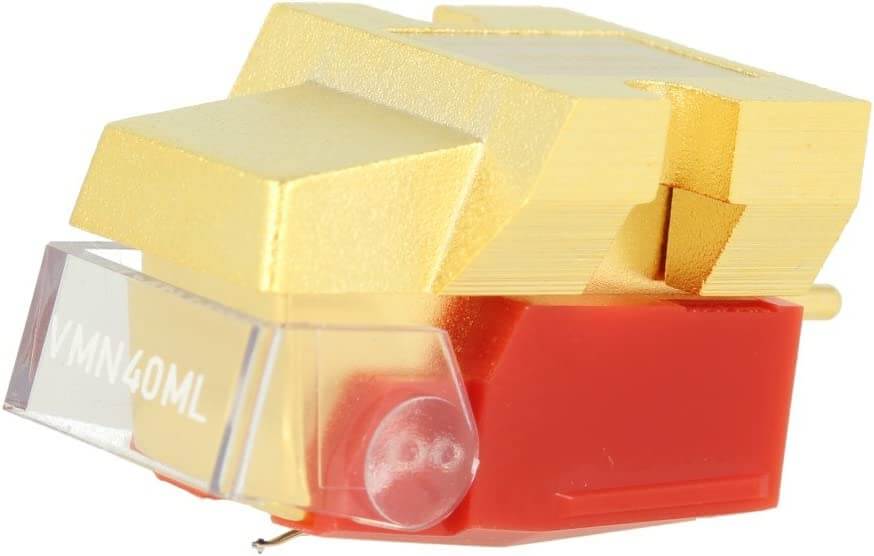 This is Audio-Technica's premier 700 series model. This is a moving magnet cartridge with fantastic channel separation as well as extended frequency response. The MicroLine Stylus has a great high-frequency response with reduced wear and noticeably less distortion than other types of stylus designs.
This has an aluminum alloy housing with the color scheme of Marvel's Iron Man.
Positives
MicroLine stylus is usually found on very high-end carts.
Very upgradeable. As you can purchase another Audio-Technica VM replacement stylus and swap the stylus out at a reduced price.
Little to no groove noise.
Budget-friendly. One of the cheapest on the list here.
Good channel separation.
Negatives
A little more difficult to mount as the stylus must ride and be aligned perfectly in the groove to get the maximum sound.
Not the best soundstage.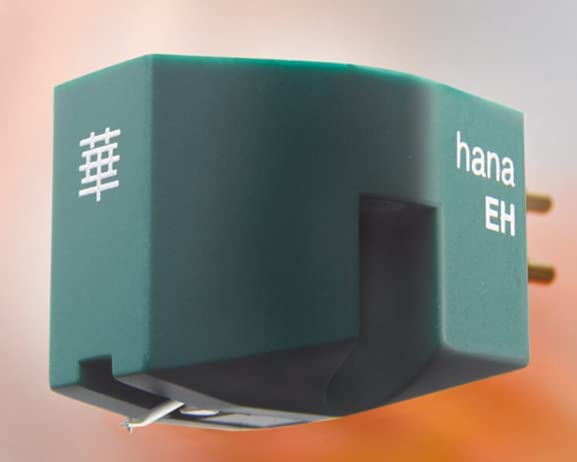 The Hana EH is a moving coil cartridge that is at the bottom in terms of the price for Hana. This has an elliptical stylus and an aluminum cantilever.
Positives
Moving coil cartridge.
Great relaxed sound quality.
Very affordable for a moving coil cart.
A very forgiving cart as it does a good job of not playing every scratch.
The lightest weight of the carts on this list.
Great bass.
Tracks well.
Negatives
You need nuts and bolts to attach the cartridge as it doesn't have threaded holes.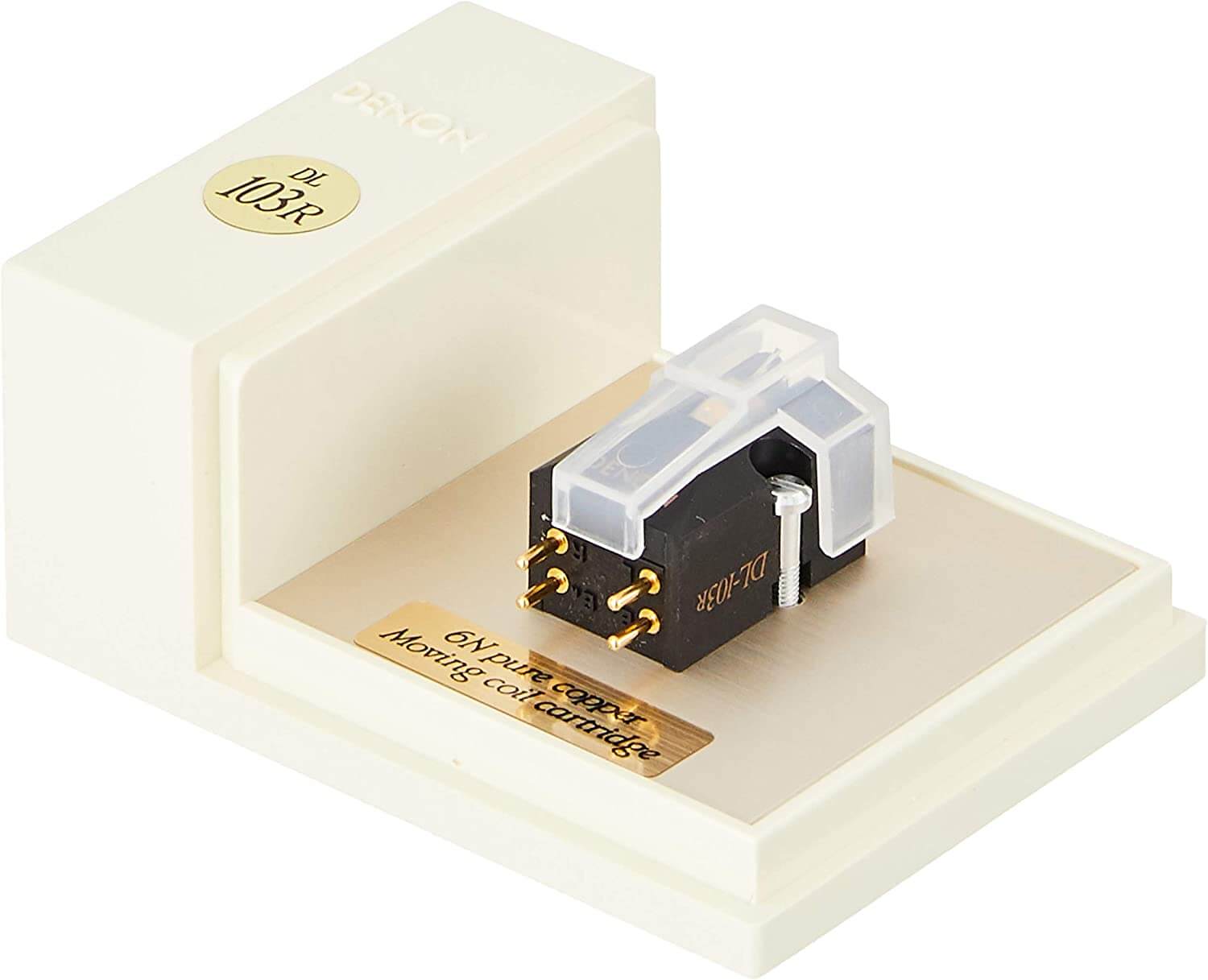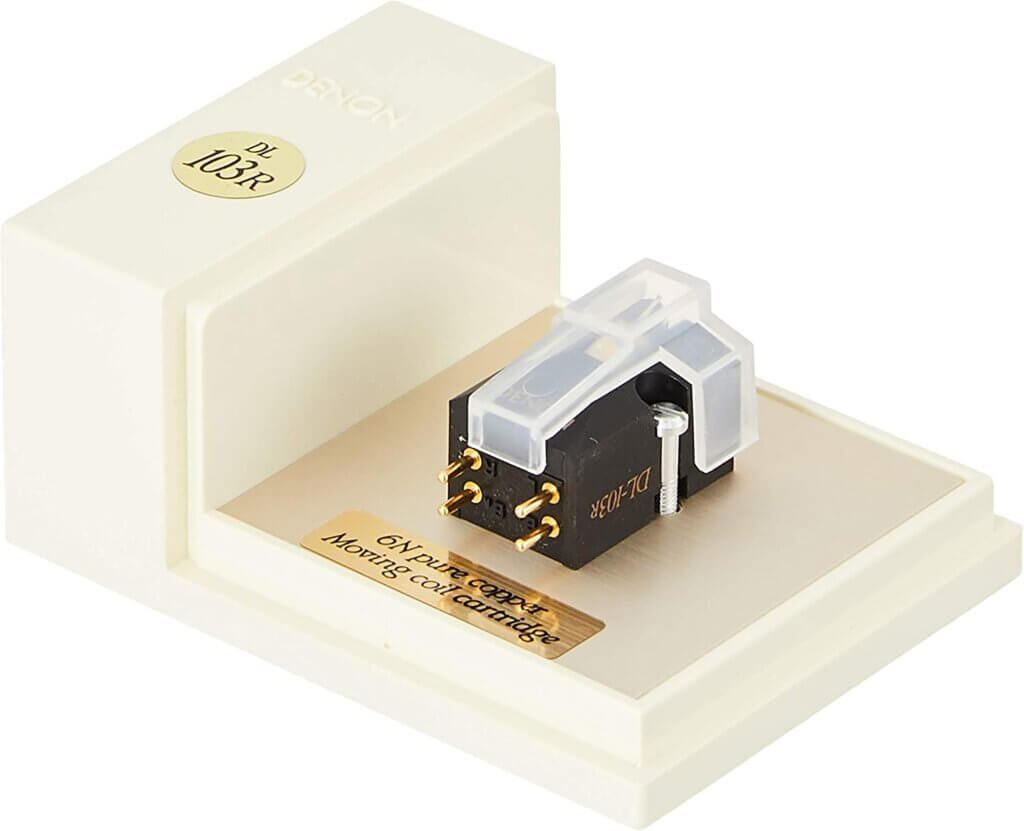 The Denon DL-103R has been around for 60 years…yeah that is a model that has withstood the test of time. This is a moving coil cartridge that is affordable and has a frequency range of 20Hz to 45 kHz.
Positives
Moving coil cartridge.
Classic old-school design.
Very wide and open soundstage.
Affordable.
Great soundstage performance.
Negatives
If you play a lot of scratched records this will pick it up more.
Needs a phono stage that can support a low-output cartridge such as this.
Doesn't hide anything.

Does A Stylus Wear Out & Need To Be Replaced?
Yes, they do wear out and lose detail over time due to wear and tear. It is important as always to listen to clean records and to clean your stylus to help prolong the life of your records as well as your stylus. Always play clean records this really helps for stylus longevity and it also improves the sound quality too.
How Long Does A Stylus Last?
Well…the answer it's a bit muddy, for sure.
Unfortunately, there is no cut and clear answer to this question. It depends on the stylus shape, manufacturer suggestion, materials used, size, and how clean your records are. That's a lot of variables, for sure!
It is always a good idea to check with the manufacturer to see how long they say it should last. They vary a lot from 200 hours to 1500 hours. You can always guesstimate too. As 300 hours is around playing 450 full LPs or 500 hours is around 750 full LPs.
A good idea if you are going to buy a new moving magnet cartridge and also buy a spare replacement stylus then break both in for around 20 to 25 records then store the other one away. If you suspect your stylus is experiencing wear swap it out to the other stylus and compare.
Is There A Break In Period For Phono Cartridges?
Yes,
Typically a phono cartridge starts to sound better after roughly 20 hours of play and maybe even up to 40 hours. So, don't fully judge the sound just quite yet as it will improve with some time. You will start to hear the music open up with more detail and soundstage as it breaks in.
Plus you have to account for your ears to adjust to the new sound as well. As your ears will be used to hearing what your old cart sounded like.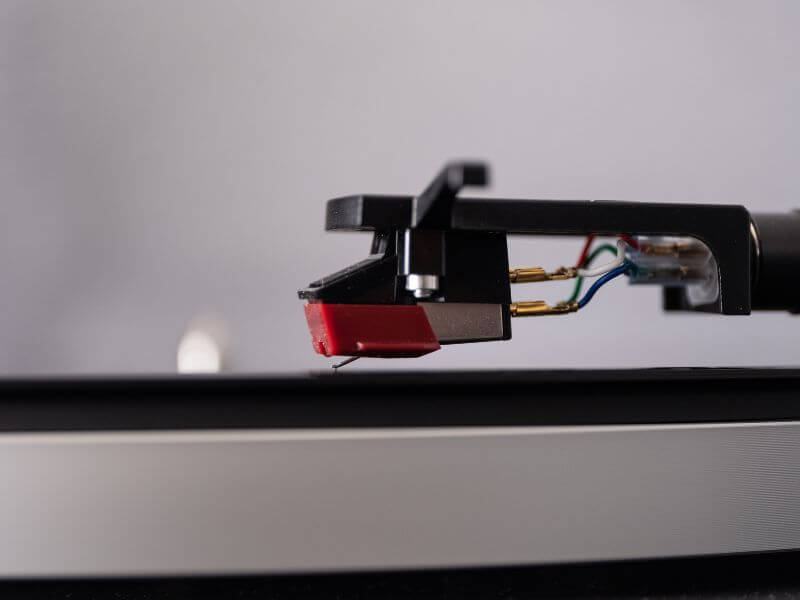 Stylus Cleaner
I highly recommend you check this out!
I use an ultrasonic cleaner for cleaning my stylus. It's cheap, easy to use, and works great! Check out my page here, What Is The Best Way To Clean Stylus? I have before and after pictures that prove that it works very well.
Record Sleeves – Inner & Outer
Using both a quality inner & outer record sleeve to help protect your records is also going to prolong the life of your stylus as this keeps dust, dirt, smoke, and debris away from contaminating your records and hindering the sound, and damaging your stylus.
For more information head on over to my post, Best Vinyl Record Sleeves.
Phono Cartridge Stylus Shapes
There are different nine stylus shapes that can impact the way the stylus rides in the groove of the record. This a rabbit hole I tend to stay out of as I don't have the money or the time to experiment with all of them. But it is important and can help you lead you to find what you want in a phono cartridge.
I will be just going over the bare minimum here to give a general idea. You can research more on the matter elsewhere. There is more to how a cart sounds than just the shape of the stylus, just like anything else, everything affects the end results. Things like what parts are used, workmanship, wiring, etc.
Conical/Spherical – Cheapest to buy and manufacture. These work well for damaged records as they play less of the pops and clicks.
Elliptical – Track really well and also pick up more detail from the sidewalls of the inner groove. This will pick up more surface noise and can sound thin on the lower frequencies (bass).
Linear Contact/Fine Line – The best for tracking high-frequency tracking. Great at minimizing distortion.
Shibata – Gives a wide contact area for playback. Good for high-frequency capabilities.
MicroRidge/MicroLine – Almost the same shape as the cutting stylus which is used to cut the record. This is often found in very high-end cartridges.
Jico SAS
Final Thoughts
Finding a better cartridge for your system can be rather complicated there are so many factors that play into how well a cart plays and performs from stylus shape to your speakers and everything in between. Everybody's sound system is different and everybody's ears also hear differently. Lots and lots of variables.
Upgrading your phono cartridge is the best way of improving your turntable sound. Upgrading anything else on your turntable will have minimal effect over getting a better cart. So you are investing good money into hopefully a whole lot better sound.