A Sturdy, Affordable, Customizable, Quality Audio Rack…Yep!
Having a place to properly store and hold your audio equipment can be a cheap or very expensive endeavor. This is the middle ground with quality this, of course, is dependent on what you want to spend. Sure, you can buy a cheaply made rack or entertainment center made out of compressed wood at your local big box store but that stuff looks horrible and will not last over the years.

This review is about finding that solid-made rack to hold your delicate audio equipment and not break the bank. I know this is a great affordable rack because I own this and have had it for years and it still is holding up fantastically. Let's get into the many reasons why you would choose this rack.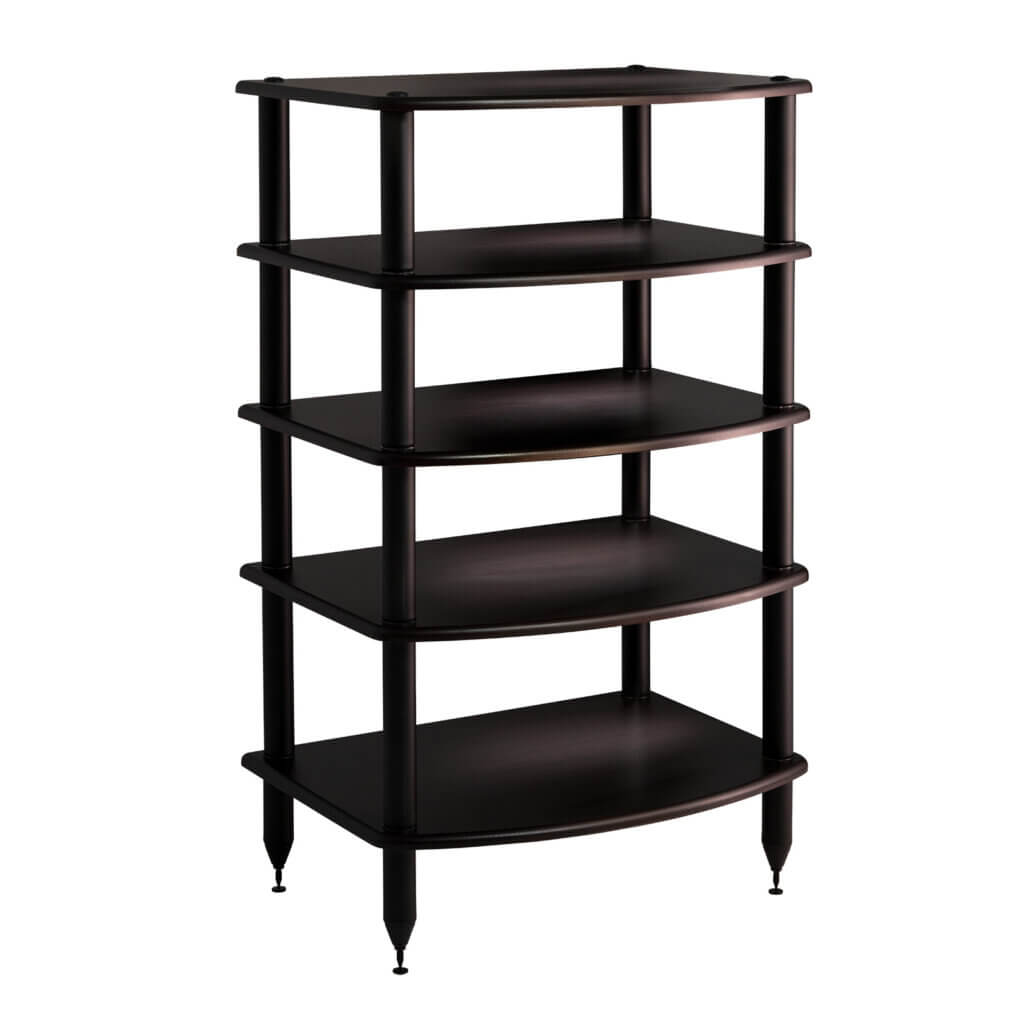 My Experience
I own the Pangea Audio Vulcan 4-shelf four Esspreso finish for about 5 years now and I am really happy with it. Especially of how relatively cheap it was because at the time I didn't have a lot of money but I didn't want to buy something that didn't last either.
It holds all of my audio equipment with ease and I just don't have to worry about it. It is a quality furniture piece that helps keep my audio equipment safe.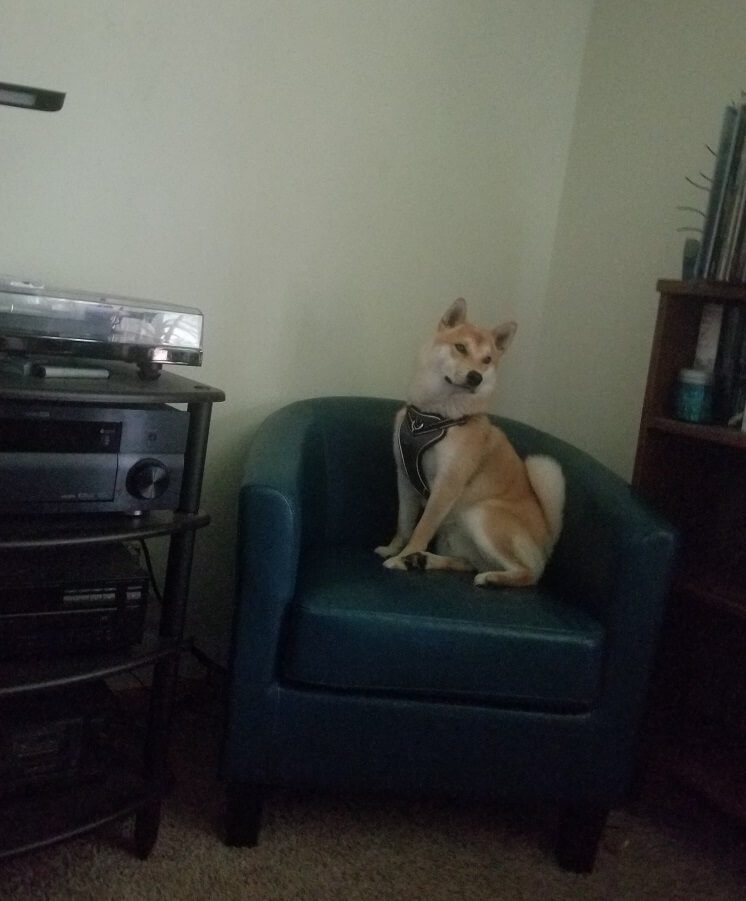 The only problem I had is I was raising a Shiba Inu puppy (Ishi) and he loved to chew on the ends of the rack. Other than that and it is not the fault of Pangea I've had no issues with it. A side note, at first I was really upset about those bite marks on my audio rack but since losing my dog due to health issues I tend to look at those chew marks differently now.
What Is The Vulcan Audio Rack?
Basically, think of it as a quality affordable audiophile rack.
The Vulcan Audio Rack comes in basically four versions, a 1 shelf (Amp Stand), a 3-shelf rack, a 4-shelf rack, or a 5-shelf rack. Pangea also offers additionally an X-Brace on 4-shelf racks and 3-shelf racks for additional rigidity and load capacity.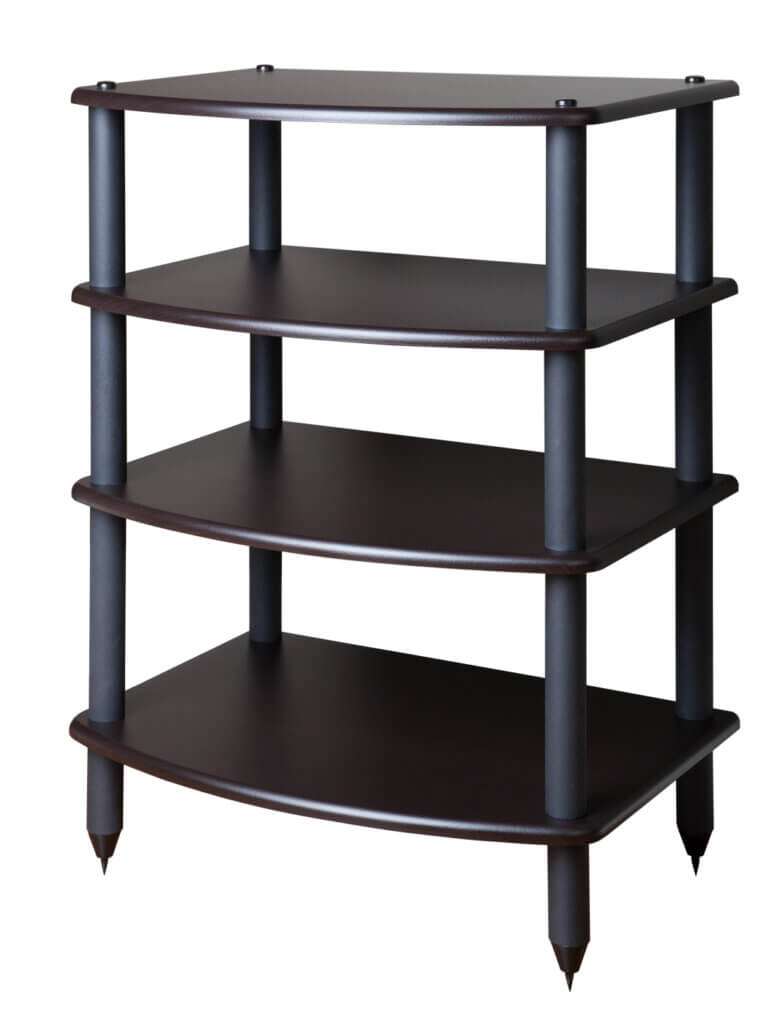 There are also a total of 5 different finishes to choose from Black, Carbon Fiber Vinyl, Espresso, Natural Parawood, and Rosenut. This allows you to match your component to the existing furniture in the room.
Construction Materials Used
The shelf is made from 5/8″ MDF boards that are vinyl wrapped. The vinyl wrap helps with resisting scratches and I think helps with the strength of the shelves.
Steel is used in the post. This steel is also powder-coated to help reduce resonance-resistant and scratches. The steel post has threads that along with a steel bolt you thread to hold it all together.
Base Kit Specs
5 Shelf Rack Specs
39.75 inches tall
24″ total width
18″ deep
19.4″ between shelf support horizontally.
The height between the shelves is 8.75 inches for the lowest shelf and 7.25 inches for the other shelves.
Weight capacity is 75 lbs. per shelf and 350 lbs total per rack.
Steel is powered coated.
MDF boards are vinyl wrapped.
4 Shelf Rack Specs
32 inches tall
24″ wide
18″ deep.
The height between the shelves is 8.75 inches for the lowest shelf and 7.25 inches for the other shelves.
Weight capacity is 75 lbs. per shelf and 300 lbs total per rack.
Steel is powered coated.
MDF boards are vinyl wrapped.
Expansion & Add-Ons Features
There are many expansion options as well as add-ons that can be outfitted with the Vulcan Rack. So many options to make sure you have the exact rack you need and want. As you are able to alter the height of the shelf or add accessories.
I will list the expansion and add-on options below.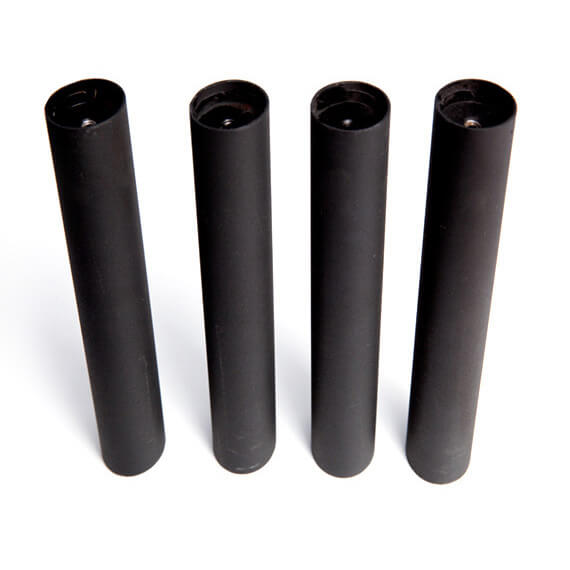 Vulcan Drawer – Great for storing vinyl brushes, stylus cleaner, and remotes in.
Add-On Shelf (Any Color) with 5 1/4″ Posts
Add-On Shelf (Any Color) with 7 1/4″ Posts
X-Brace Replacement Posts 10″ (4)
Add-On Turntable LP Storage Kit (Any Color) 13″ Steel Posts -Holds 100+ LPs
10″ Steel Posts (4)
8 3/4″ Steel Posts (4)
7 1/4″ Steel Posts (4)
5 1/4″ Steel Posts (4)
Penta Storage Drawer 5″ High
Dou Storage Drawer 2″ High
Roll-On Casters (4) Black
How Well Does It Goes Together & Perform?
This went together rather quickly assuming you follow the directions. But overall it is rather simple just using a standard set of tools.
Once assemble I quickly filled up the 4 shelves with audio equipment and I regretted not getting the 5 shelf unit but I will be upgrading to buy an additional shelf and just add it on later. As I would have more room to expand with more audio equipment. As I have a receiver, cassette player, cd player, Raspberry Pi, and a turntable.
Another shelf would really come in handy for a phono preamp, DAC, or headphones. It is all dependent on your current system but don't forget, that in the future you might grow your audio equipment too. It's better to have the extra space than not to have it at all.
I have had zero issues with this audio rack and for the money, it is a fantastic buy.
How Long Does It Take To Put It Together?
I have the 4-shelf audio rack and it took me less than 25 minutes to put it all together. It was helpful to read the directions first and understand everything and then start setting it up following the directions.

Pros & Cons At A Glance
Pros
Great price!!!
Quality product.
Looks simplistic but nice.
Very sturdy and strong. They use steel support tubes to bear the weight load and to hold everything super stable. Once put together nothing wobbles or flexes.
Very customizable as you can get a range of different finishes and add-ons to suit your needs and wants.
Easy to put together.
Powder-coated steel posts really resist ringing as you can flick the steel and it doesn't ring.
Expandable. Add a shelf or take off a shelf whatever you want.
High weight capacity.
Open-air design. This allows air circulation to better ventilate your audio equipment. This also helps extend electrical components' product longevity as heat degrades components over time.
Great for budget-conscious audiophiles.
Dense MDF wood is wrapped with a hard vinyl material. Easy to clean and good at resisting scratches.
It can support up to 75 lbs. per shelf and 350 lbs. total weight for the whole rack.
With the X-Brace design, you can get up to 90 lbs per shelf and a total weight limit of 360 lbs total for the 4-shelf X-Brace racks.
Spiked feet for carpeted floors and also four mini Sonic Saucers to protect wood and tile floors also come with the purchase.
Holds all my equipment nicely.
5 different finishes to choose from. Black, Carbon Fiber Vinyl, Espresso, Natural Parawood, and Rosenut. So you have options to get the color that best suits your room.
Some models support storing vinyl records on the lowest shelf as the supports are longer to allow storing taller items.
You can buy an additional shelf, drawer, or LP storage kit to store your records. Lots of options for sure!
The spikes on the bottom are adjustable so you can properly level out the rack.
The spikes are also very sharp and penetrate the carpet easily.
Rubber isolation pads or washers are used in between the shelf to help control vibrations between shelves.
Caster wheels can be purchased separately.
Beveled edges, as there are no real sharp corners and gives it a nice look.
If the 7 1/4″ or the 8 3/4″ isn't enough height they also sell a 10″ post or the LP Storage kit (13″) for increased height.
A manual always comes with the rack but it is also downloaded too.
Made in the USA.
Cons
Little to no vibration damping.
My dog liked to chew on the front of the rack when he was a puppy. LOL! Can't have anything nice…I guess.
Some of the shelving options are out of stock at the time of writing this but is scheduled to be in soon.
Some of the add-ons can be a bit pricey.
You have to assemble it. It is pretty easy though.
For people with a lot of money, there are better options available with more features out there.
Interested In Reducing Vibrations In Your Turntable For Cheap?
I have written a post here, How To Reduce Vibration In A Turntable – Low-Cost Methods. It deals with how to test as well as reduce vibrations in your turntable for cheap. Check it out if you experience the stylus skipping during loud music or when walking around the turntable this will help improve performance.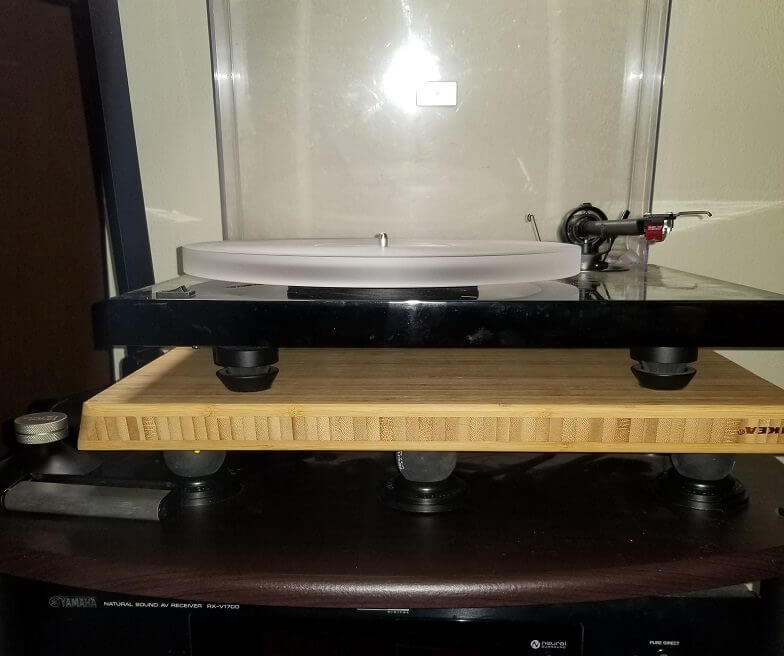 Some Tips
Before purchasing any audio rack make sure your equipment will fit into the rack. This will require doing some quick tape measuring to ensure everything will fit. Also, keep in mind all the available ways you can customize this rack as well as there are 10″ Posts and 13″ LP storage kits too.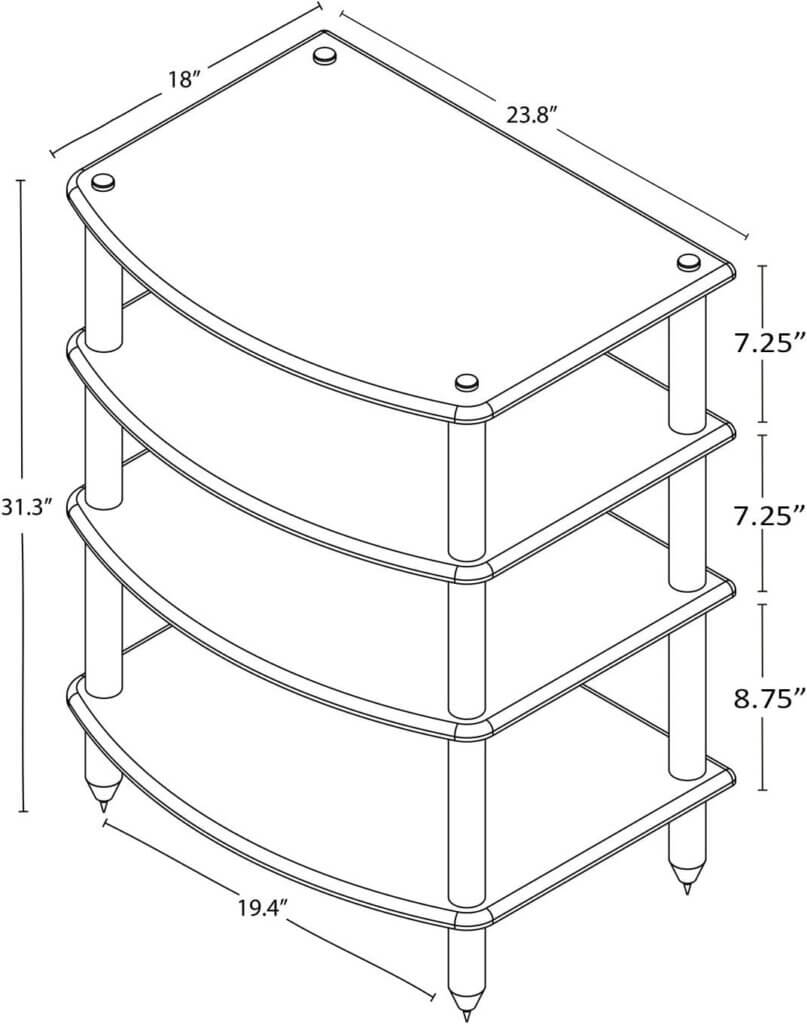 The Final Groove
Well, maybe not the perfect audio rack it is a damn good one and for a very decent price. This is a great rack for the beginner just getting into a sound system or even seasoned pros. I personally don't want to spend thousands of dollars on shelving and the Vulcan Audio Rack provides a quality product that also looks nice too.
There are just so many options to expand or customize your rack to meet your needs it is awesome. This will hold up over time too, as I've owned this for over five years now and it is still going strong. So if you are looking for an affordable audio rack it is hard to beat.