Best Vinyl Record Sleeves
Record collecting is an expensive hobby, to begin with. Right? You got the cost of a decent turntable, then a decent cartridge, then all the electronic audio processing equipment (receiver, preamp, headphones, etc.), and then you got the music media itself. In this case, the records can be pretty pricey too. Like the new MOFI One-Step Albums or Music Matters SRX, albums can start at $125.00 each. It is in this vein I hope to present the best vinyl record sleeves both inner and outer sleeves to help protect their value and most importantly their playability.
It should always be about the music first! Within this post, I hope to offer important information on both inner and outer sleeves as well as list the best vinyl record sleeves in which to store your vinyl.
First Off…What Is A Record Sleeve?
A record sleeve is basically a covering put over an album jacket or vinyl record to protect it from dust, dirt, wear and tear, and other containments. There are both inner sleeves and outer sleeves. Inner sleeves go on the actual vinyl record and outer sleeves go on the album jacket or cover. These materials are usually made out of some type of clear plastic.
Table Of Contents
After all, we pay good money for good music and we want that music to sound as well as we can get it to. With a little prevention and money, we can guarantee this as much as humanly possible.
Vinyl records are a fantastic way to preserve music in an analog means. Records recorded a hundred years ago still play well today. It is one of the best ways to store music in my opinion.
Why You Need To Use Or Upgrade Sleeves
Just go to any pawn shop, Goodwill store, or garage sale and take a close look at their vinyl. Both at the outer jackets as well as the record itself. About 90% of the records you find are less than perfect.
Why?
Because little thought was put into properly protecting both the jacket and even the record itself.
For the album jackets, you have ripped seams, ring wear, and scuffs marks. Making for a less-than-perfect jacket.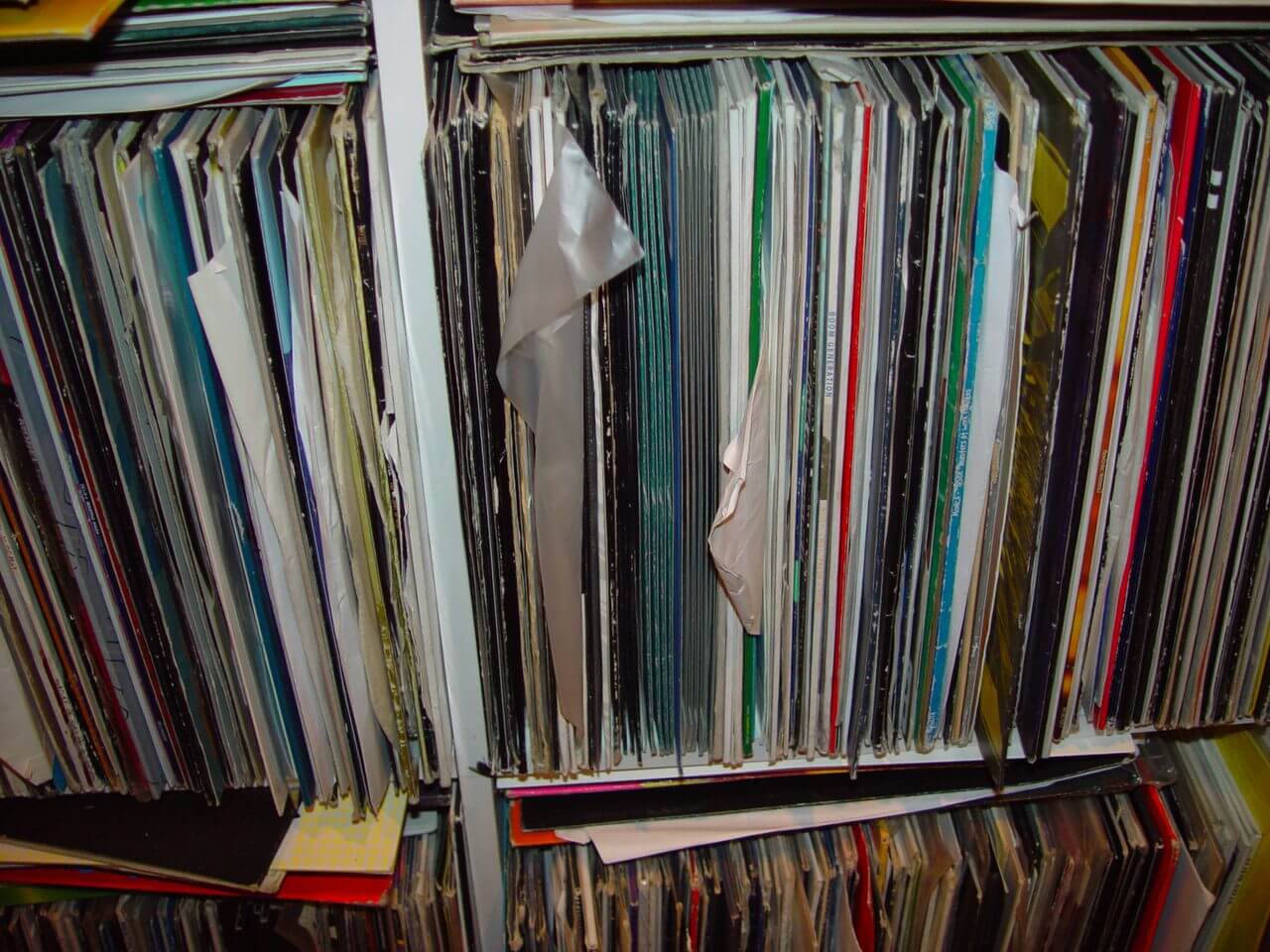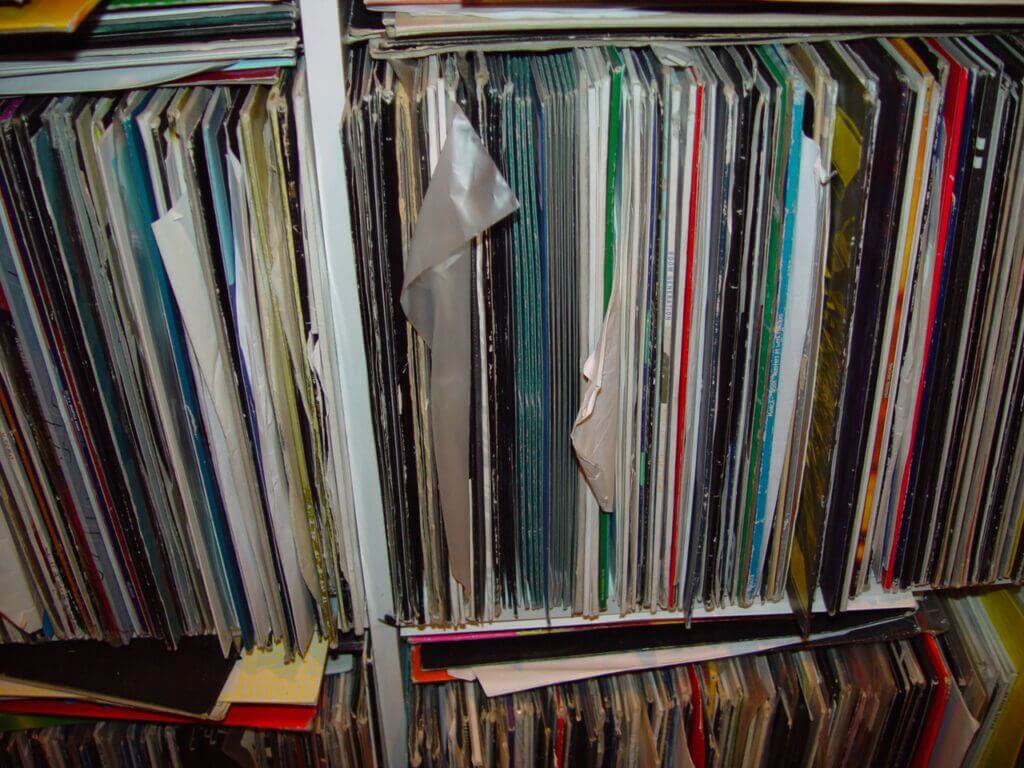 For the record itself, scratches, mildew, smoke stains, scuffs, and just plain ole dirty records. All of which prevents less-than-stellar playback. Thus your ears suffer the consequences as well as your stylus.
Nowadays, most records are shipped with quality inner sleeves but not always. Case in point the Music Matters records were shipped with pinkish lower-quality inner sleeves that some reported the sleeves were leaving scuff marks on their records. If you have any unopened Music Matters pressing I would open them and quickly replace the inner sleeves before damage can be done to the record.
Most people buying Music Matters records are aware of this and want the record opened and the inner sleeve replace, as compared to selling an album unopened.
A little investment now will pay off in the future both for the listening experience as well potentially the resale value of your records.

---
Inner Sleeves Info
FYI, all records should be properly cleaned before putting records into new clean sleeves. Otherwise, you are just possibly contaminating the new inner sleeve with the dirt/dust from the uncleaned record.
So the first step is to clean the records before putting them into a new inner sleeve. If you need a device to clean your records I would recommend you take a look at a couple of my reviews. These two of the cheapest methods of cleaning your records have been around for years and have built a solid reputation.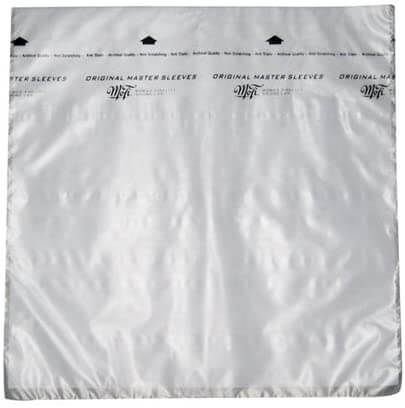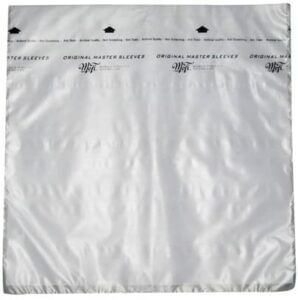 There are generally two types of materials for inner and outer sleeves. There is the Polyethylene (HDPE) and the Polypropylene (HDPP). Polyethylene is used for the inner sleeve and has a low static discharge. While Polypropylene is used for outer sleeves and is transparent allowing you to see clearly the album covers and artwork a lot better.
What to Look for in Inner Sleeves.
You Need HDPE
Always look for high-density Polyethylene (HDPE) in your inner sleeves. The reason for this is a very smooth finish which reduces friction, which reduces static. This will not take static out of the record but will stop it from happening when you slide the record in and out of the sleeve.
No Center Holes
You don't really want the inner sleeve with the circular hole in the middle cut out. This allows you to see the album details clearly but also allows dust and dirt to come inside the sleeve.
Keep the Original Inner Sleeve
You should never throw out the original inner sleeve that contains unique lyrics, pictures, or notes. Store this back in the album jacket and leave it there.
The Worst Inner Sleeves – Stay Away
Paper Sleeve – Not to be confused with rice paper. Paper sleeve puts dust, and paper residues on the record, and adds static electricity to your records. This should be thrown away or kept in the album jacket without a record in it depending on the uniqueness of the paper sleeve. If it is a collectible record you should definitely keep the paper sleeve and store it in the album jacket. This can scuff your record over time as well.
Pinkish Sleeve – Stay away, this has been known to cause residue marks on vinyl. (some Music Matters pressing have this)

---
The Best Inner Sleeves
These are just about every Audiophile's go-to inner sleeve and a must-have. Probably the most trusted for archival purposes. They are very thin, and the records slide easily in and out of the sleeve. The MOFI sleeve also has rice paper to add stability to the sleeve.
Most people get a quality inner sleeve since this is what is right next to the record itself, and MOFI is that quality. Then get whatever for the outer sleeve. I think the inner sleeve quality is the most important. 
These are sold in a pack of 50 and have a three-ply high-density polyethylene and anti-static design. One side is transparent, which is excellent for storing your records outside the record jacket but in an outer sleeve. These come standard with any MFSL album you buy. These can be purchased directly from MOFI or off of Amazon, I recommend Amazon as the MOFI website they are usually on backorder for some reason.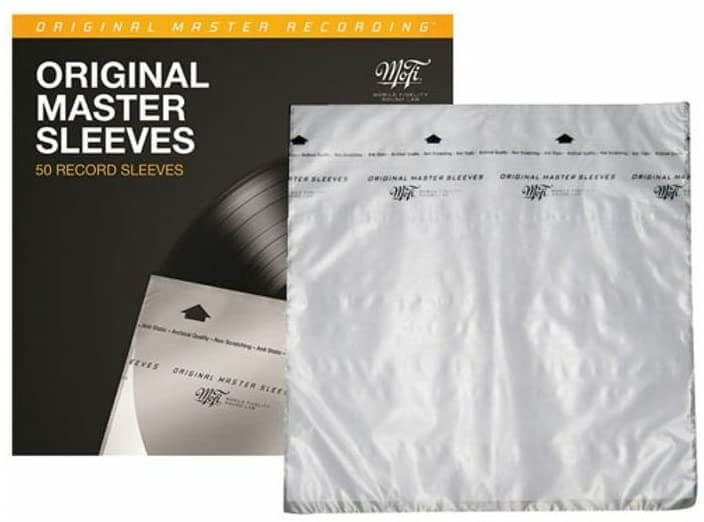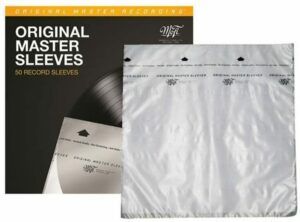 Super affordable! The Diskeeper 2.0 is made and sold by SleeveCityUSA and by far and away, their best-selling inner record sleeve.
This also comes in a 50-pack and is also cheaper than the Mobile Fidelity Original Master Record Inner Sleeves. The inner sleeve is 2.0ml HDPE and is also transparent.
These are a great alternative to the MOFI listed above, as I am pretty happy with Sleeve City USA.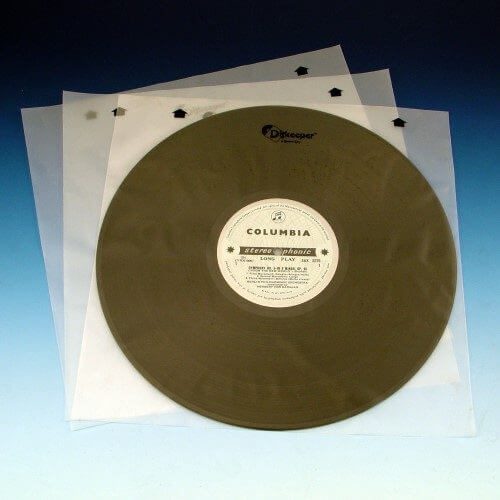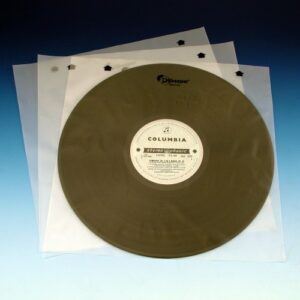 This is Big Fudge's best inner sleeve that they offer, this sleeve is 3-ply polyethylene and rice paper that is between two sheets of HDPE. These are sold in packs of 50 and also have one clear transparent side for easy reading labels.

Vinyl Storage Solutions is a Canadian Company based out of Manitoba.
This is 2mil thick with sandwiched between rice paper. These are anti-static and have no recycled content.
These are also very reasonably priced to boot. They have both great inner and outer sleeves.


---
Outer Sleeves Info
When looking for a quality outer sleeve for vinyl records there are a few things to consider. Nowadays they make crystal clear outer sleeves that allow you to see artwork and album information with no distortion. These are made from Polypropylene or HDPP.
Having an outer sleeve on your album also allows them to effortlessly slide in and out of your collection, as compared to not having an outer sleeve. This makes for a more pleasurable experience.
What To Look For In Outer Sleeves
Different Sizes
One size does not fit all in the world of outer sleeves.
With outer sleeves, you going to want to pick up two or three different sizes, depending on your collection. The reason is you want one size for the single record albums and another size for multi-record and or gatefold albums and thirdly a size for bigger box sets like Mobile Fidelity One-Step albums and such.
I highly recommend getting at least three different sizes, so you have them on hand when you need them. Thus protecting your music right away, instead of putting it off for later, then never doing it.
Single records – 12 5/8″ x 12 5/8″
Multi-records or gatefold albums – 12 15/16″ x 12 15/16″
Box Set – These sizes can range from 1.25″ inches and wider. Box sets vary so much it is hard to find one that fits them all unless you get the biggest one. This leaves a baggy appearance on some box sets but it at least protects them. Box sets also can in my experience be more easily damaged, as compared to a single record.
What Outer Sleeve Fits MOFI One-Step Albums?
Most Mobile Fidelity Sound Labs Ultradisc One-Step Pressing box sets are 1 1/8″ inches wide. See below Sleevie Wonder's recommendation.
To Flap Or Not To Flap
Full disclosure, I hate flaps. Okay, that said…
There are two types of flaps for outer sleeves. A longer tuckable flap that doesn't use any adhesive and a re-sealable flap that uses adhesive. I've seen the glue on the flap and on the non-flap side.
Also, something else to possibly decide about is if you want a re-sealable flap. I would rather stay far away from resealable flaps as they could potentially wreck an album cover by sticking to them if you are not careful. With my luck in life, I will not be purchasing these ever. If you do want the flap I highly recommend you look for outer sleeves with the adhesive on the non-flap side, not the flap side. This will possibly prevent the flap from sticking to the album cover.
Flaps, both tuckable and re-sealable do have a place in the vinyl storage game though.
Some reasons for having a flap are:
You live in an area where dust is very high. Sealing the album stops any dust from entering the jacket.
Someone smokes around your records.
Extra level of protection for your records.
Some reasons to avoid having a flap are:
If your records are not completely dry when putting them into a sleeve they can be a breeding ground for mold.
An extra step and a nuisance to get records out of the sleeve.
Re-sealable flap loses its stickiness over time.
The adhesive on the flap side could potentially stick to the album cover.
Flaps can potentially tear after a while.
Non-adhesive flap outer sleeves are also available, which seems like a better avenue for me personally. I will list them below if you are interested in them.

---
The Best Outer Sleeves
These will definitely safeguard your outer album jackets from the usual scuffs and wear and tear. This outer sleeve has a thick 4mil protective sleeve. These come in packs of 50. These will accommodate most gatefold albums without being too tight.
Highly regarded as the best out there!

Super tough outer sleeve coming in at a whopping 5mil outer sleeve, giving you maximum protection and peace of mind. This is polypropylene, so it is crystal clear.
The dimensions on these outer sleeves are 12 3/4″ x 12 3/4″ and can easily fit fat double LP albums.
The measurement for these sleeves is 12 5/8″ x 12 5/8″ and should fit 95% of single albums and about 90% of gatefold albums. This doesn't have a flap and is made out of cast polypropylene (CPP). These are super clear and very scratch resistant. A great choice.
These are super clear outer sleeves and are 3 mils thick. The size for these is 12.75″ x 12.75″, which accommodates most gatefolds and double LPs. The materials are made from HDPP and which explains the clearness of the sleeve. How about a lifetime money-back guarantee on top of all that? Yeah, I know…
Big Fudge's Outer sleeves are also Amazon's Choice for well-priced products and are highly recommended. So you can buy with confidence.

Another set of crystal clear outer sleeves that measure 12.75″ x 12.75″ and fit most standard gatefolds and double LPs. These are also wrinkle-free and super clear and are made of High-Density Polypropylene and are 3mil thick.
Cue78 is a newer company that has entered the vinyl world but has some great innovative products as well. I really love their Cue78 Vinyl Record Holder Review and a great and modern record holder.

Sleevie Wonder has a lot of different sizes for bigger box sets, so make sure the width of your box set is at or under what is stated on the particular outer sleeve. With this set of outer sleeves, you only get 5 sleeves. These Sleevie's don't have any flaps. They make a pretty good product and have built themselves a solid reputation in the record-collecting world. 
MOFI One-Step Box Set
The dimensions of this 5 Box Set are 14″ x 14″ and should fit a 1 1/4″ box set. This fits 4-5 vinyl records albums box sets.
This fits any of the Mobile Fidelity Sound Labs  One-Step box sets, like the size for the MOFI is 1 1/8″ wide.

Analogue Productions UHQR Box Sets
The UHQR box sets measure 13 1/2″ inches wide 12 3/4″ inches tall and 1 5/16″ thick.  
The Sleevie Wonder XL 5,6-8 LP fits 2″ and works with the UHQR.
What Sleeves Fit Bigger Box Sets
Sleevie Wonder has quite a few sleeves that cover larger box sets, just be sure to measure your particular box set and purchase accordingly. A great way to protect those highly expensive box sets.
Sleevie Wonder (Small) 1-2, 3 LP usually fits a 3/4″ thick box
Sleevie Wonder Medium 3-5 LP usually fits 7/8″
Sleevie Wonder (Large) 4-5 LP fits 2″  – This should work with MOFI Ultradisc One Step Box Sets. 
Sleevie Wonder (XL) 5,6-8 LP fits 2″  – This Should work for the Analogue Productions UHQR Box Sets.
Sleevie Wonder (2XL) 7-9 LP shy of 3″
Sleevie Wonder (3XL) 8-9 LP fits slightly over 3″
Sleevie Wonder (4XL) 10-12 LP baggy over 3 1/4″ fits up to 4″+
Sleevie Wonder (5XL) 13+ LP fits 5 3/4″ (Huge, 4mil thick!) 

The Final Groove
Protecting your vinyl records is very important and records sleeves, both inner and outer sleeves really do a great job of safely protecting your records for not a lot of money. A really wise investment for both playability and resell value.
Which sleeves do you use? Did I miss something? Let me know below. I would love to hear it.