I've been looking for a change.
A change in what?
A change from my old flaking gold-plated wire record holder from the '70s. I found it at Goodwill for a buck years ago. Well, it does a decent job of holding regular single LPs but it doesn't like holding double LPs as the space isn't wide enough for accommodating wider double LPs. Plus, it looks dated, and it's not so easy to find a record fast. The word cumbersome comes to my mind when thinking of my record holder.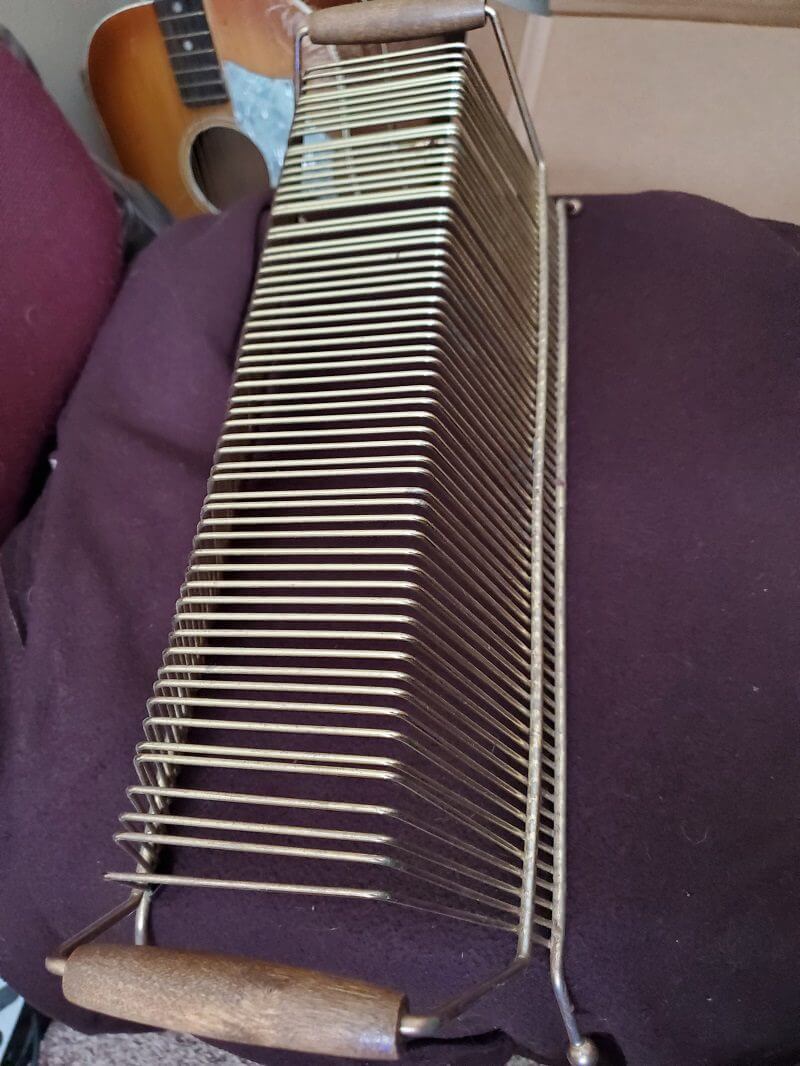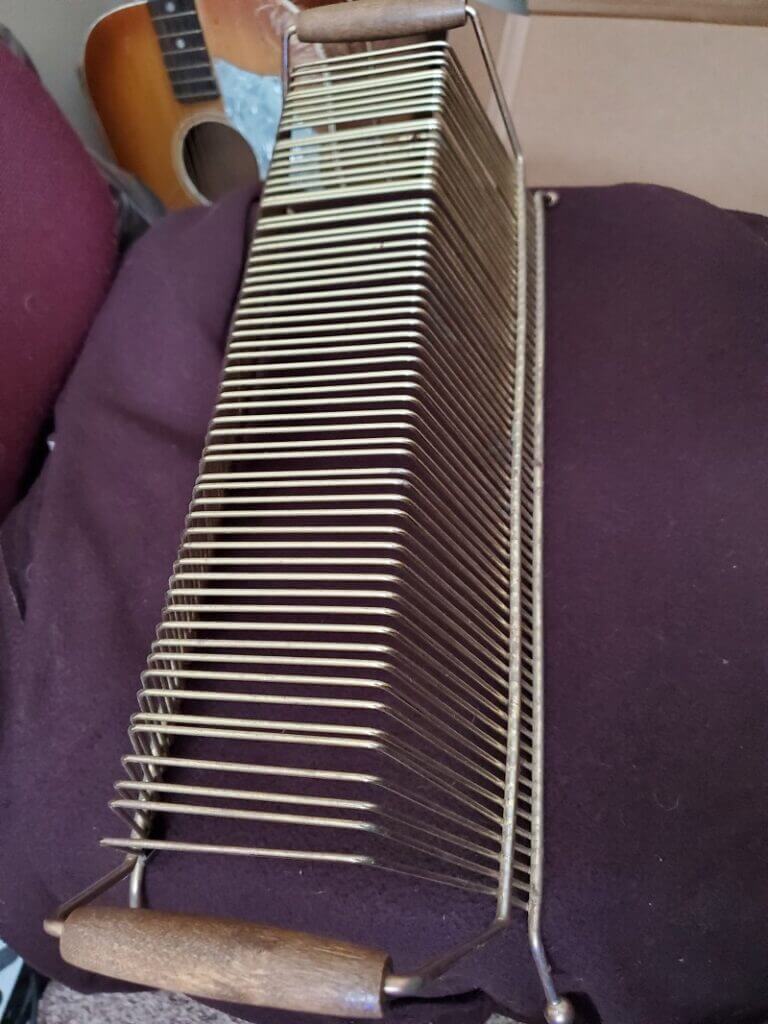 I was initially intrigued while scouring the internet for a suitable replacement for some type of record holder and came upon the Cue78 Vinyl Record Holder, also called "The Cue". The Cue78 looks sleek, elegant, and practical. Enough so to reach out to the company and form a dialogue with them. After much discussion, they sent me some products to review here on my website.
This will not alter my review in any way. I only present honest reviews of any product or album. I hope to help people find useful and practical solutions to the vinyl hobby or should I say, "viny obsession".
Why Do You Need A Record Holder?
To have easy access to your most played vinyl records.
Showcase your collection.
Additional storage space.
Great for having a neat and clean area to play records.
What Is the Cue78 Vinyl Record Holder?
This is a device usually placed around the general area of your record player on a shelf or cabinet to allow you easy and quick access to albums.
This is a simple 4-piece construction designed of 3 pieces of wood and 1 piece of acrylic that fit easily together to assemble. The front legs sit ingeniously higher than the back legs to allow records to rest upon the acrylic and hold in place. There are notches where the bottom of the record sits to stop the records from sliding out on you.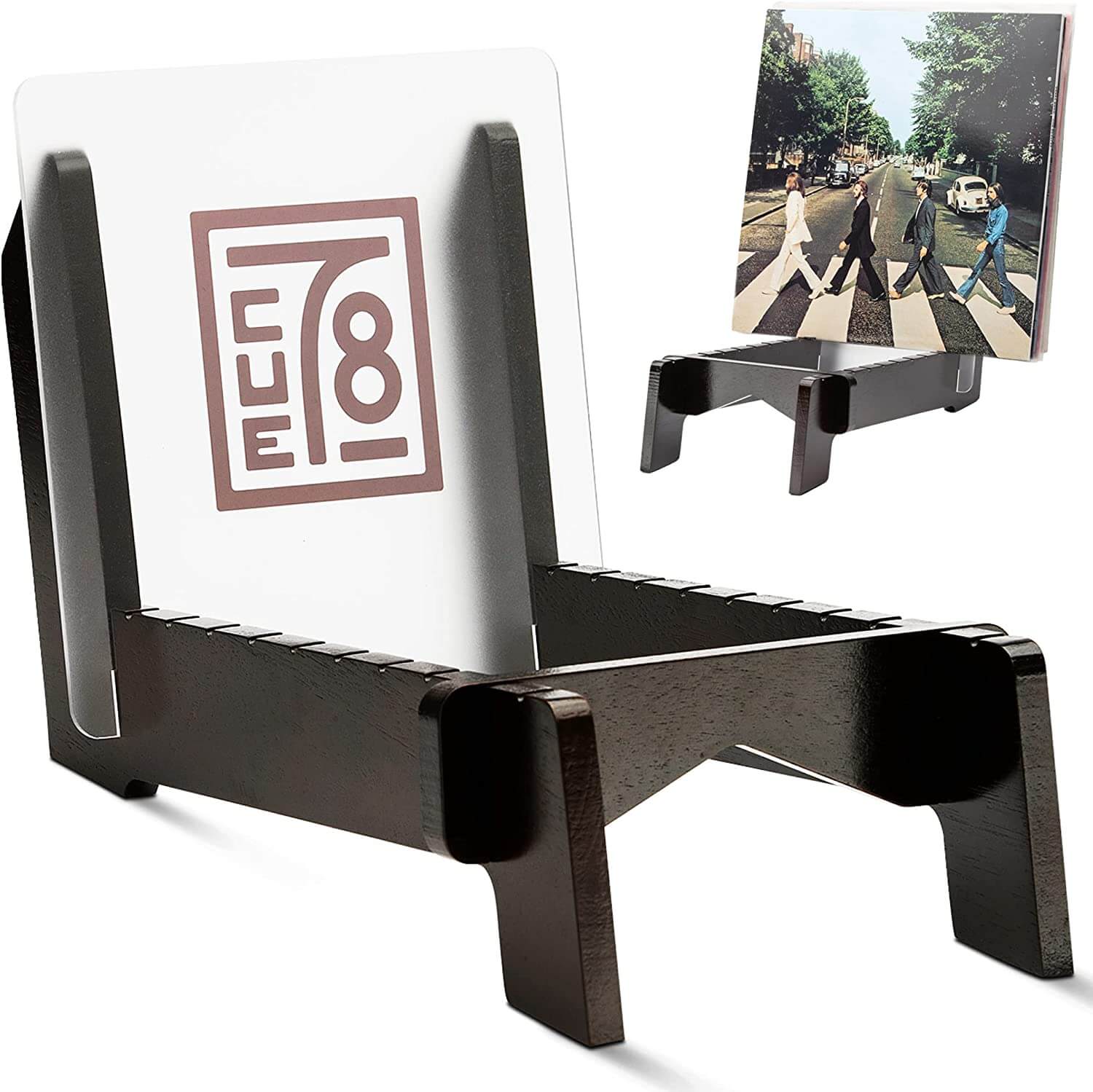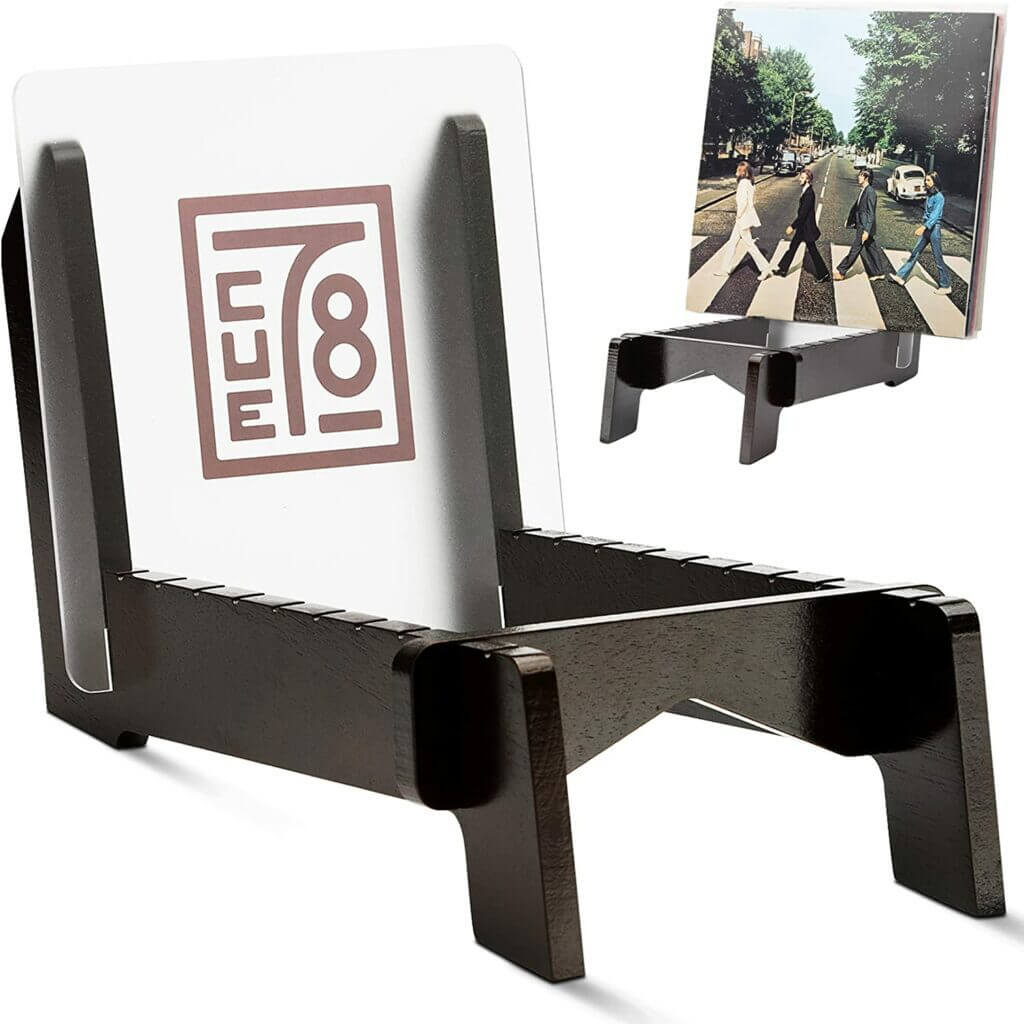 This comes in one color, a stained dark walnut color is what I would call it. It also has a nice clear coat on it to make it shine and pop.
Cue78 Vinyl Record Holder Specs
The dimensions of this record-holder are 14″ long X 7.5″ at its widest and 8.4″ tall.
This is made out of 3 pieces of American hardwood and 1 piece of clear acrylic with the Cue78 Logo on it. The wood pieces are stained dark walnut and have a semi-gloss finish.
This will hold a maximum of 70 single LP records.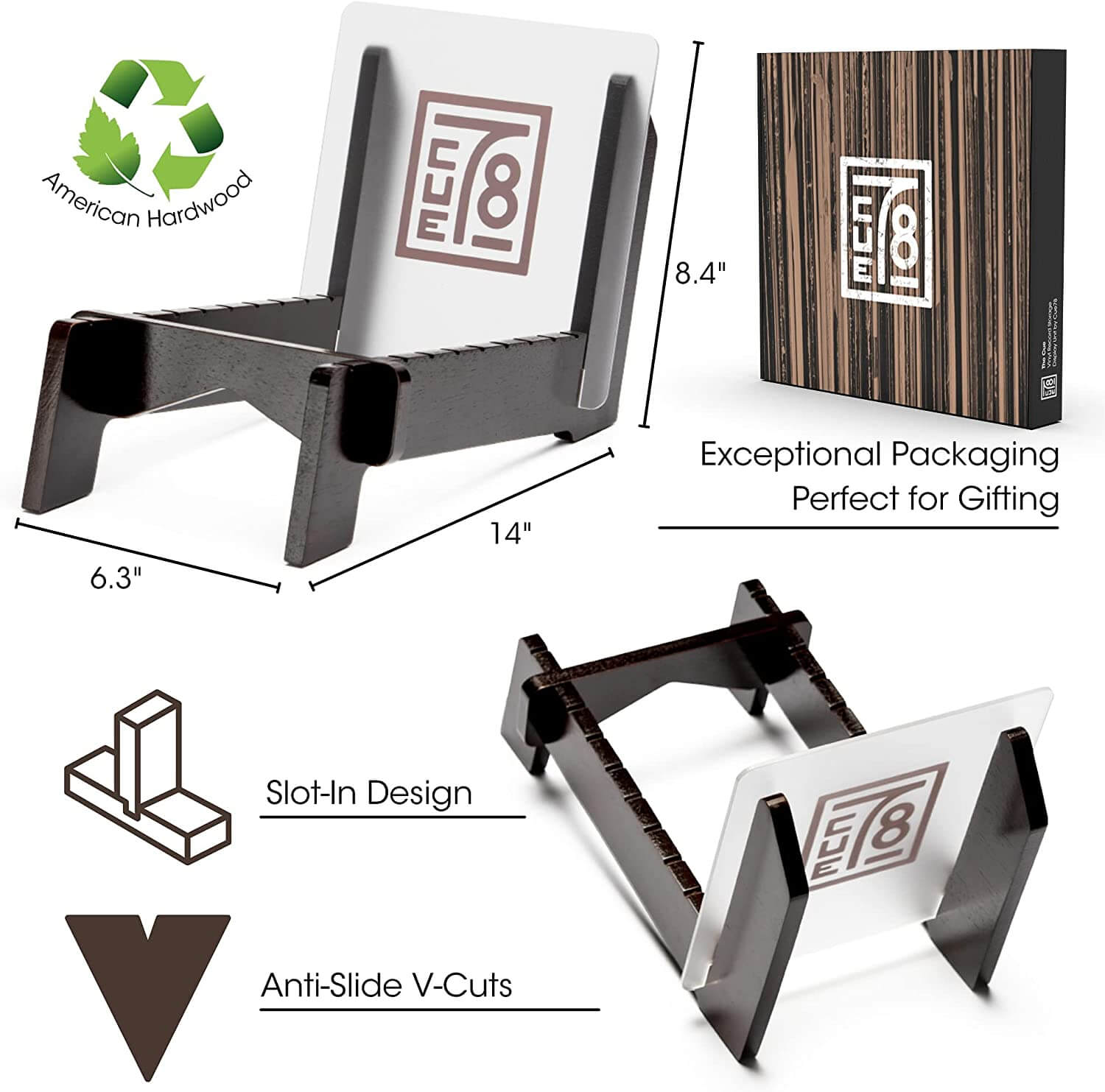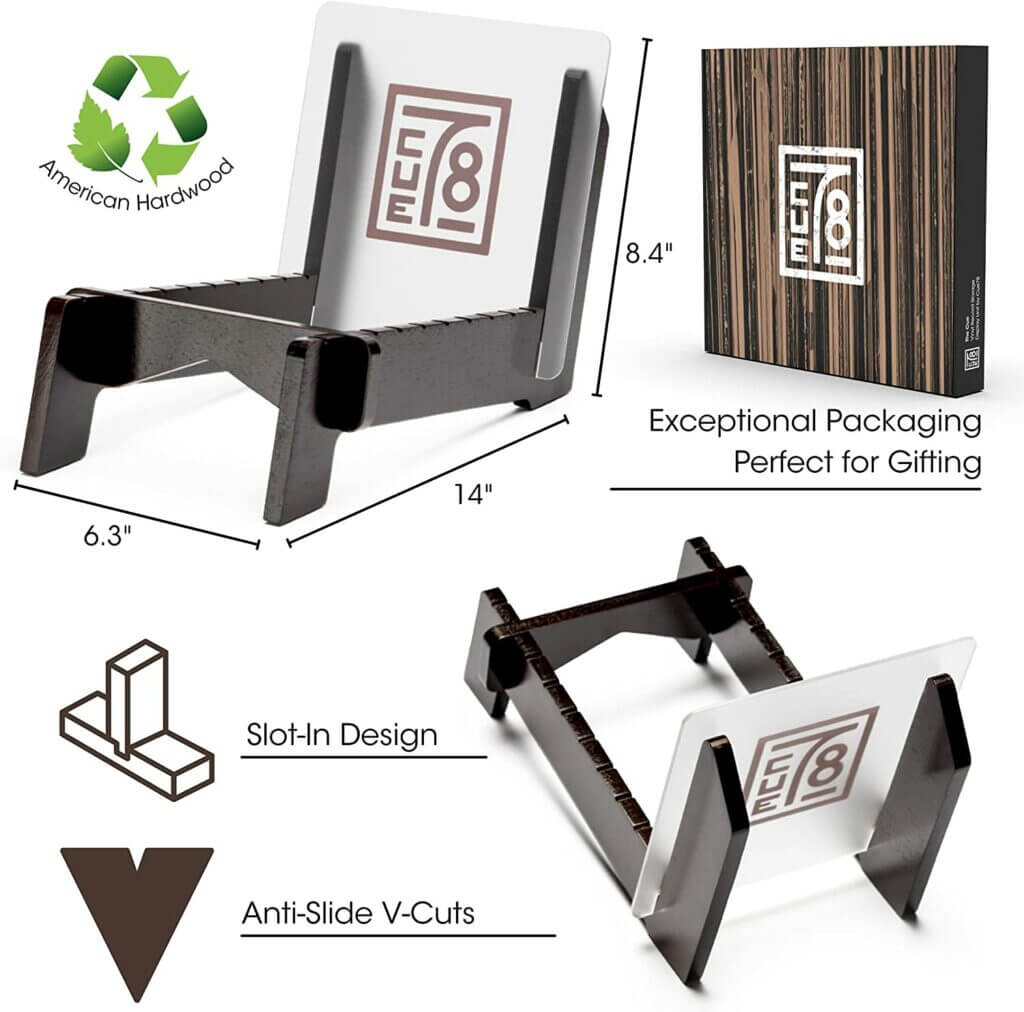 How Well Does This Hold Records? Is It Worth Buying?
Right away after I had quickly assembled this record holder I loaded this up with as many records as I could to see how it would perform. I grabbed a stack of records that were sitting on the floor next to me in my office. It was a mix of double LPs and single LPs and I managed to get 43 records sitting comfortably and securely. This will hold up to 70 single LP records and that is quite a few.
I then started flipping through the records and was really impressed. So much better than that wire rack holder as I was able to quickly find what I was looking for and fast. Flipping records is addictive, btw.
It holds the records at just the right angle so that they don't fall forward and the notches keep the albums from sliding forward. Thereby stabilizing the albums to perfectly stay in place no matter how many (max 70) or how few records the albums stay where they are supposed to. It does a great job of this.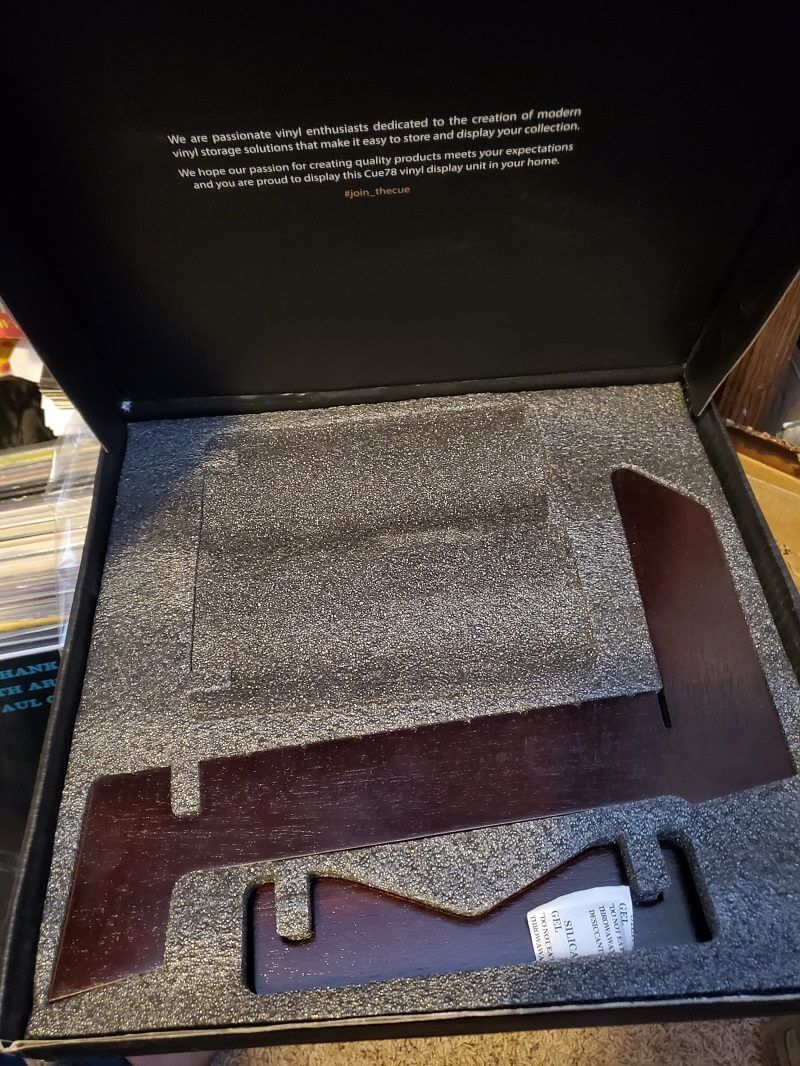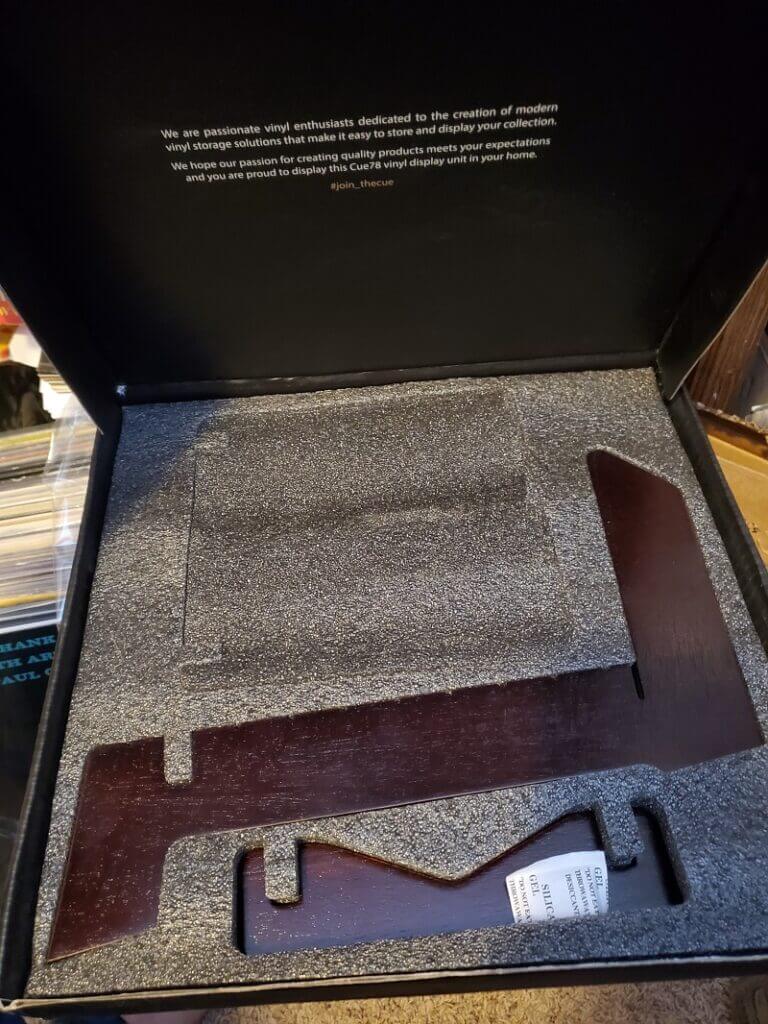 The Cue78 held them securely with no complaints or mishaps leaving me very pleased. I experienced no sliding or records falling forward. I then wanted to test out some 7-inch records and placed them on the Cue. Yep…it holds 7-inch too just fine. I then got to thinking how about 10″ records, I know 10″ is smaller than 12″ records and should work but I tried it anyway. Yeah, obviously the 10 inches worked well with "The Cue" but I had to try it anyways.
I just love how simple this is. Simple works especially when it looks this good and performs. Flipping through the records on this record holder is very pleasing and rewarding. You can quickly find what you are looking for and it feels like you are in fact, crate digging. Another guilty pleasure of mine.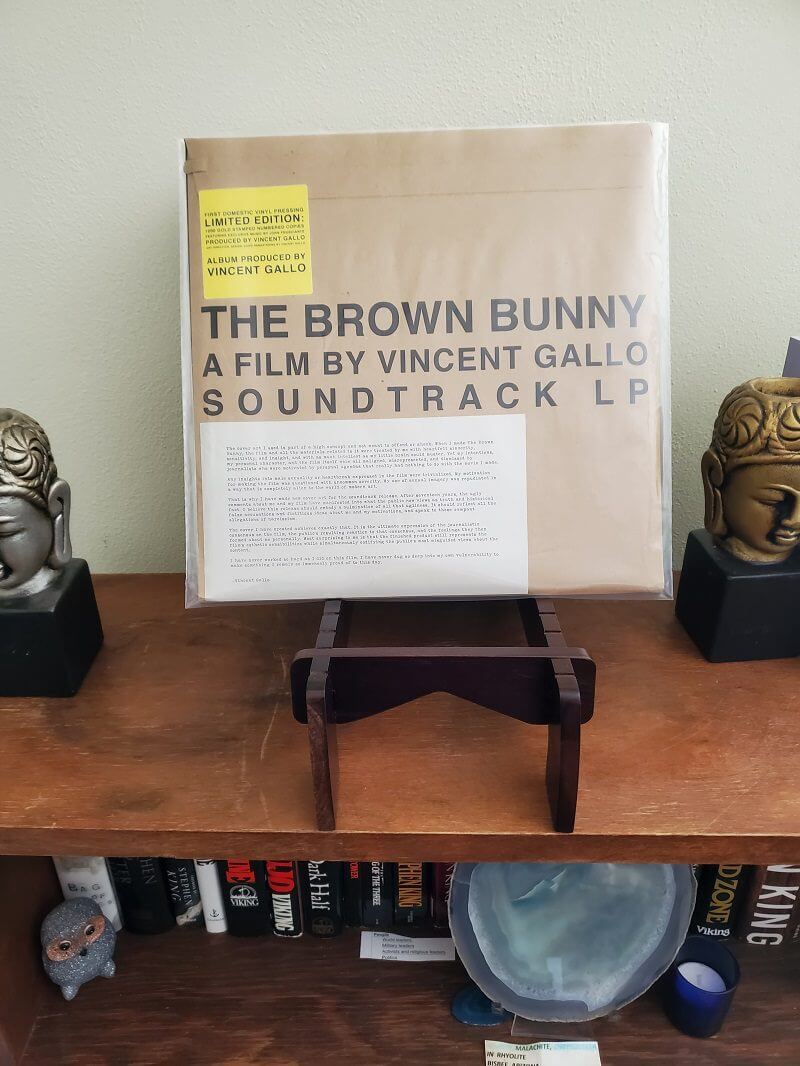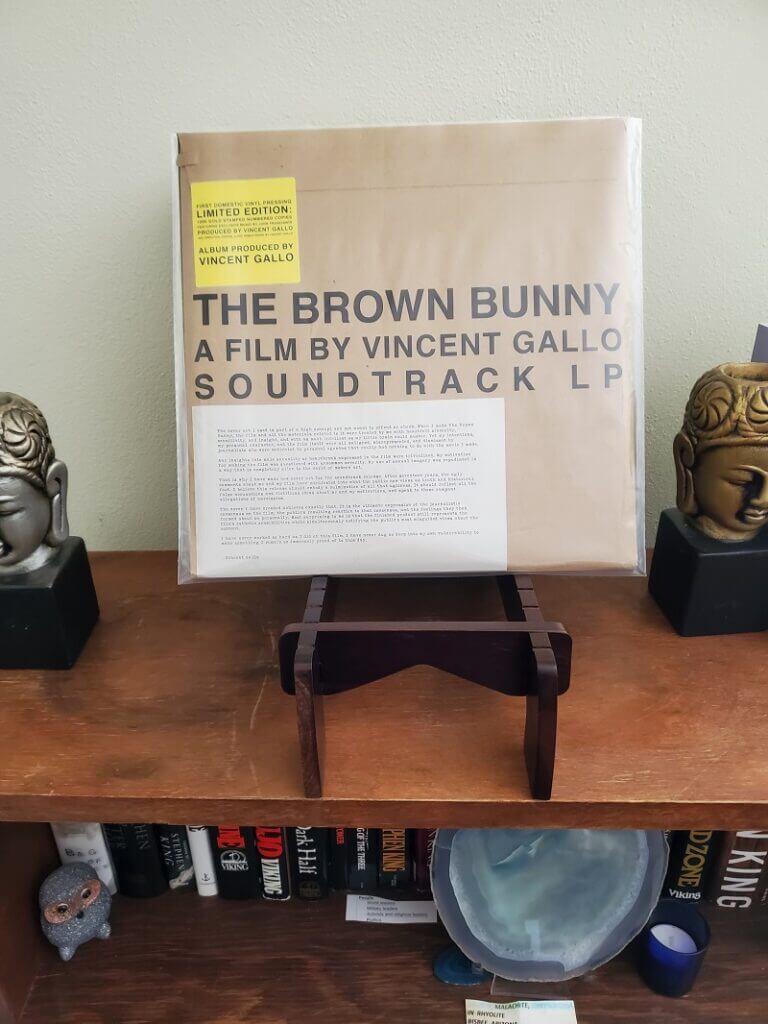 So yeah…I think it is worth buying. As long as you have a space for it next to or around your system, it is fantastic and I would suggest a must-have!!!

Pros & Cons
Pros
Holds any size record I threw at it 7″, 10″, or 12″ securely.
Easily and fast to just buzz through whatever records you have loaded on the Cue78 Record Holder. So much faster than on a shelf.
Holds numerous amount of albums, up to 70 records.
Comes well packaged and well protected.
Amazing colorful detailed instructions are included that are easy to follow. The nicest I have seen ever.
Every wood piece is immaculate and flawless. I used to do woodwork at my former job and these are stained and finished without one blemish! Believe me, I looked.
Bonus unexpected gift included. Wow! Not going to spoil the surprise but yeah…I always need more of them.
Super easy to assemble.
Super easy to disassemble.
American hardwood constructed this pleases me and should withstand a lot and have many years of service.
Great for placing around the general area of your turntable as you can load it up with your favorite go-to records for easy access.
You can flip through your records without the worry of records falling forward on you. What a relief.
A great way to help show off your records and what you have been spinning.
Great name and a great logo.
Lightweight.
Really classes up your setup at least for me it did.
Allows you to properly store records without anyway way damaging them.
Makes the vinyl hobby more enjoyable.
Works well with or without outer vinyl sleeves on the album jacket.
Makes a great gift.
Cons
Would like to see at least three different colors of stain offered. I like the stain color and it matches my furniture but others may want other choices.
Shifting a bunch of records to having most or all the weight on one horizontal wooden support can potentially collapse the otherwise sturdy structure. Avoid shifting all the records at once or just take them off straight up. If you just flip through the records it is completely stable.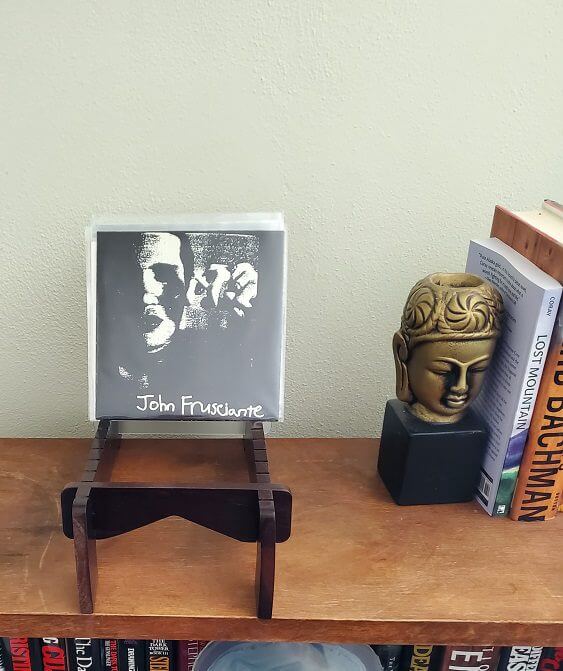 Tips On Using The Cue78 Record Holder
If you are considering purchasing the Cue78 Record Holder make sure the shelf you potentially are putting it on is wide enough and long enough. The dimensions are posted above if you need them under Specs.
I would suggest you put your most played or favorite records, records you newly purchased, or records you need to listen to on the Cue78. That way they're right there for you instead of searching for them when you need them. It is a good way to stay on top of recently purchased records and give them a listen when you have the time.
Protect Your Vinyl
Also, make sure you are protecting your vinyl with quality inner and outer sleeves. Check out my page, Best Vinyl Record Sleeves.
The Final Groove
This product makes owning vinyl records better! It doesn't take away from the hobby it adds real substance. It feels a void, that other record holders don't fulfill.
I really enjoy queuing up "The Cue" with my most played albums and newly acquired albums that I need to listen to. I can easily start flipping through the records to quickly find what I want thereby saving me time and frustration. Plus it looks minimalistic and elegant.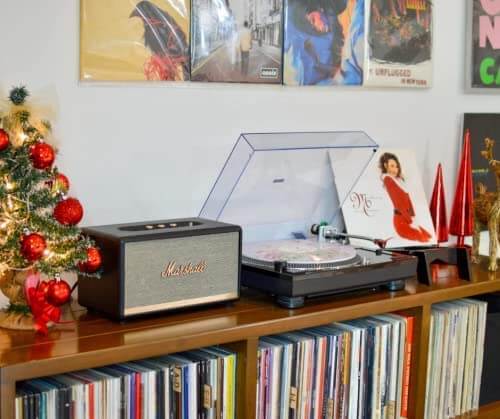 Do you have a record holder? What kind is it? Are you happy with it? Would love to hear what other people are using. Please leave a comment below.