An Affordable Way To Vacuum Your Records?
Many new record collectors and even some experienced grizzled collectors can be quite surprised by the sticker price of some of the high-end and even mid-range vacuum systems that clean records. I know I was! I know the importance of playing clean records for both sound performance as well as preserving your vinyl records. I often thought there must be a more affordable way of vacuuming your vinyl records.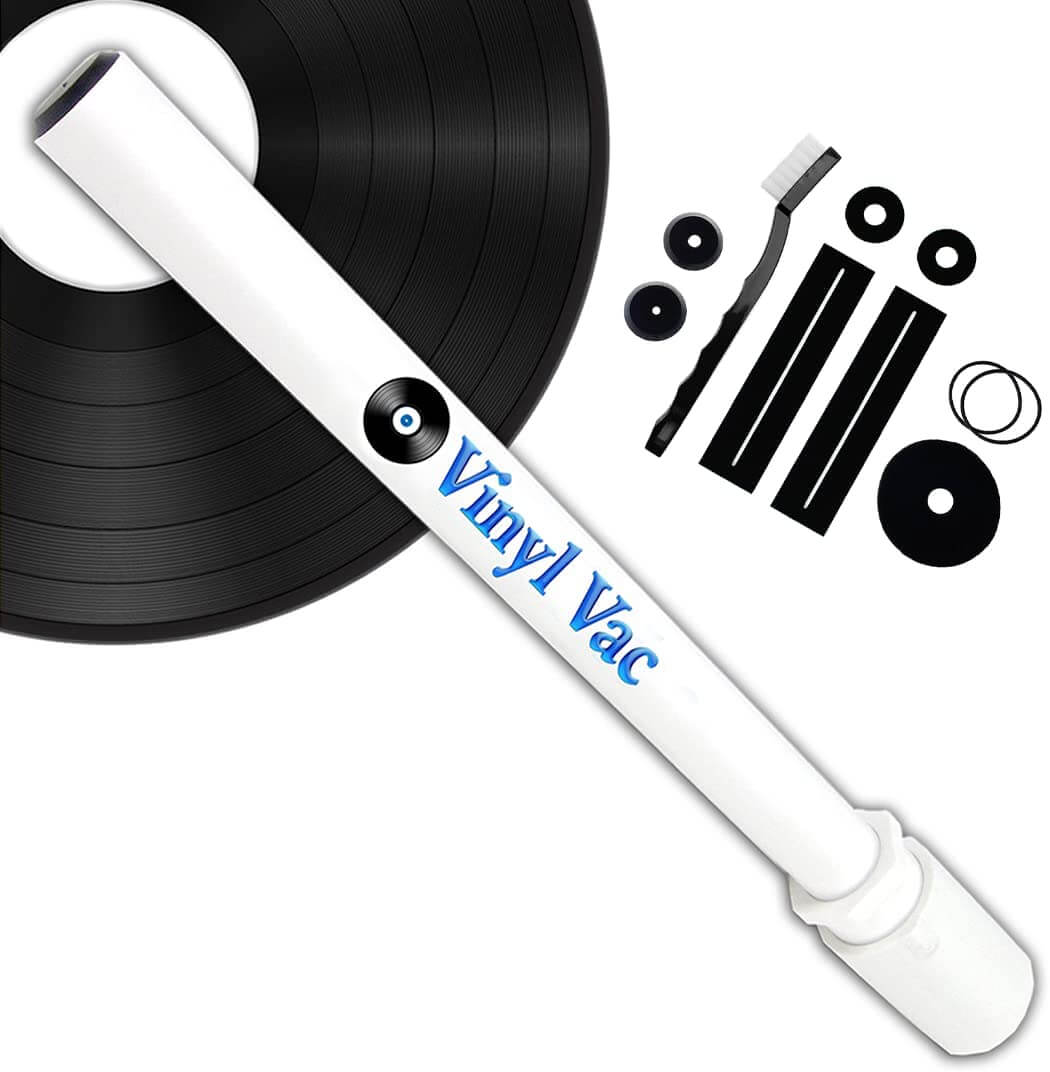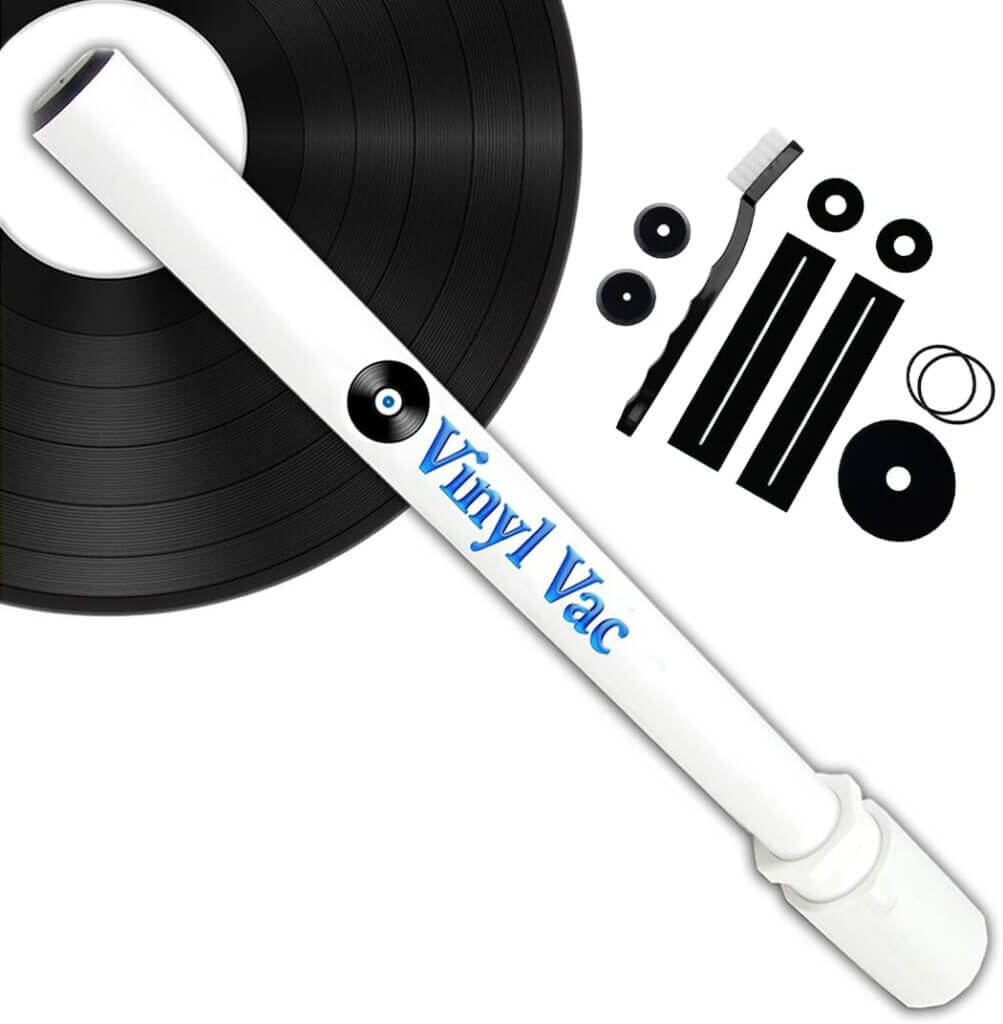 I've been aware of the Vinyl Vac for a while now but never owned it. I recently reached out to the owner of Vinyl Vac to see if he would help me out. He quickly sent me over his Vinyl Vac Combo (1oz) through the mail. I am very pleased he was so eager to help me and my new website. I hope to present some useful information, as well as the pros & cons of using the Vinyl Vac for other people. To help them determine if the Vinyl Vac is a good cheaper option. This is not a paid review in any shape or form, just my opinion.
$30.00 vs $600.00 or more…umm, this might be worth you checking out.
What Is The Vinyl Vac?
The Vinyl Vac is a cheap affordable way of vacuuming your records. While it doesn't have all the bell and whistles of a more expensive vacuum system, it still is a pretty effective way but slightly more labor-intensive and requires a more hands-on approach to running it.
You could go down to your local hardware store and build this yourself but for me, I would rather avoid the headache of figuring it out. It is made out of various PVC parts, felt pads, O-rings, and other plastic pieces. It also comes depending on what Vinyl Vac Combo you purchase a cleaning solution, either 1oz. or 2oz. The 1oz. will make half a gallon and the 2oz. will make a full gallon.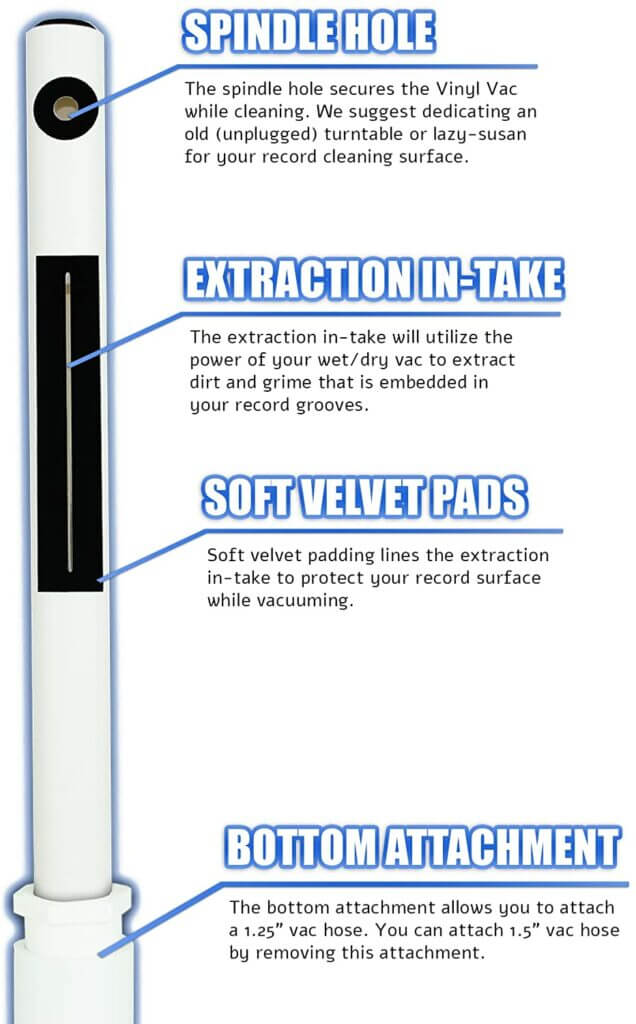 The way the Vinyl Vac works is by attaching this to a wet/dry vacuum and then placing the record on either an old junk turntable (or that is either broken or bought cheaply) or building a lazy Susan. There is a small hole that fits over your turntable spindle and keeps the Vinyl Vac stable during use. You then spin the record after you applied the cleaning solution and use some type of record cleaning brush to clean and disperse the cleaning solution.
The Benefits Of Vacuuming Your Records
Keep in mind whatever method you use to clean your records is better than doing nothing.
A vacuum system has less chance of cross-contamination than say a system that uses a bath of fluid that you clean a bunch of records with, ie. a Spin-Clean unit. The dirt is sucked away while in a bath-type system, the dirt is either suspended in the cleaning fluid or settles to the bottom.
Vacuuming diffiently has a place in the vinyl world for cleaning records. As you are forcefully removing debris with suction with limited contact with the vinyl surface.
Can be used in conjunction with other cleaning methods.
What Is Included?
I was sent the Vinyl Vac 33 Combo (1OZ) and the item contained below will represent that which is shipped with that combo. They also sell the Vinyl Vac 33 Combo (2OZ), which just has one ounce more cleaning fluid.
1 – Vinyl Vac 33 Vacuum Wand
1 – Bottle of Vinyl Vac Concentrate Cleaner 1oz this makes a half gallon of cleaning solution.
3 – Pairs Of Intake Replacement Pads. One pair is preinstalled on the Vacuum Wand and the other two are packaged loose.
2 – Pairs of Spindle Replacement Pads
1 – Nylon Brush for cleaning the pads.
1 – Felt Washer
2 – O-Rings
2 – Suction Reducers
1 – Set of Instructions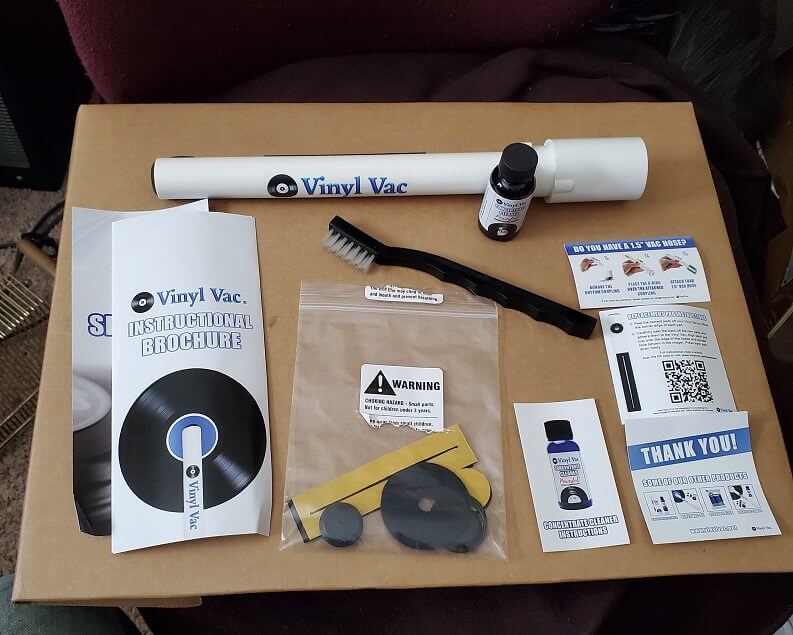 Other Items Need
Additional & Optional Equipment For Using The Vinyl Vac. While being the cheapest way to vacuum your records it can require you to spend additional money to make using this system better. If you already have some type of wet/dry vac and an old turntable you have the bulk of the equipment already taken care of.
Any Wet/Dry Shop Vac. I bought a small dedicated Shop Vac even though I already have it in my workshop.
An Old Turntable – Or A Lazy Susan – An old turntable can be found at a Goodwill or thrift shops) or a 12″ Lazy Susan on Amazon. The Aketek at Amazon is pretty darn cheap and has ball bearing and turns both ways.
Slip mat – I like a thinner acrylic mat as these are super easy to clean with a quick rinse and no grooves for dirt to get stuck in. This will be placed on top of the turntable or lazy Susan. Check out Amazon for acrylic slipmats. Vinyl Vac recommends using some easy liner but I don't for the reason mentioned above.
Distilled Water – This is pure water that doesn't have any contaminants that would leave a residue on your records. Don't use tap water! This can be found at your local grocery store.
Squeeze Bottle – This disperses just the right amount of fluid to get your record wet with a cleaning solution and/or just distilled water for rinsing and it is very easy to control the amount of fluid it dispenses. I like the ACM Economy Wash Squeeze Bottle on Amazon.
Flush Plug – Sioux Chief Recessed Plug 4 inches. This goes over your label on the record.
Paint Edger – I like the Shur-Line 2001046 (8 Pads Included).
Foam Brush – 4″ foam brush on Amazon.
Foam Gasket – 14002 Round Weatherproof Gasket Black on Amazon.
Glue Gun – Any glue gun would work.
Flathead Screw 1/4″
Pros & Cons Of Using The Vinyl Vac
Pros
The cheapest method of vacuuming your records. Especially if you have an old turntable and a wet/dry vac all ready.
Love the inclusion of the nylon brush in the Vinyl Vac. As you are able to clean the velvet pads after a cleaning session.
This was just recently upgraded with new and better parts like a new spindle pad and a new intake pad. Always love seeing improvements in any product line.
Great for the frugal-minded or beginner vinyl collectors.
Works great. Improved the sound quality of some really old records that other cleaning systems didn't even affect.
Customer service is fantastic.
Will 100% improve the sound of dirty records?
Drys the records fast as it cleans, thereby killing two birds with one stone.
Can be modded to attain the right cleaning suction.
Replacement parts are cheap, you are supplied three intake pads initially but if you wear these out they are super cheap to replace.
The cleaning solution has no alcohol. This is a highly controversial topic as some say alcohol is bad for vinyl while stats sheets and people say it does nothing to vinyl.
The cleaning solution has a wetting agent that helps spread the cleaning fluid and allows it to get into the grooves better.
A great refund policy. If you don't like it just send it back for a full refund.
Very soft velvet pads that come in contact with the record, so it won't damage the record.
A couple of O-rings are included which makes sure you have enough suction on the vacuum.
Felt washer to protect the label.
If you have your preferred cleaning solution you can just order the Vinyl Vac 33 system that doesn't include the cleaning solution from Vinyl Vac.
Cons
You have to manually spin the device and it is not automated.
It is not a set-it-and-forget-it system. You have to pay attention and make adjustments as needed.
There is a slight skill set involved but you will become better and more proficient with time.
Additional items might be needed to purchase or construct to use the Vinyl Vac like an old turntable or building a lazy susan.
Operating a vacuum can be noisy.
Only cleans one side at a time. It can take a bit of time to clean a stack of records.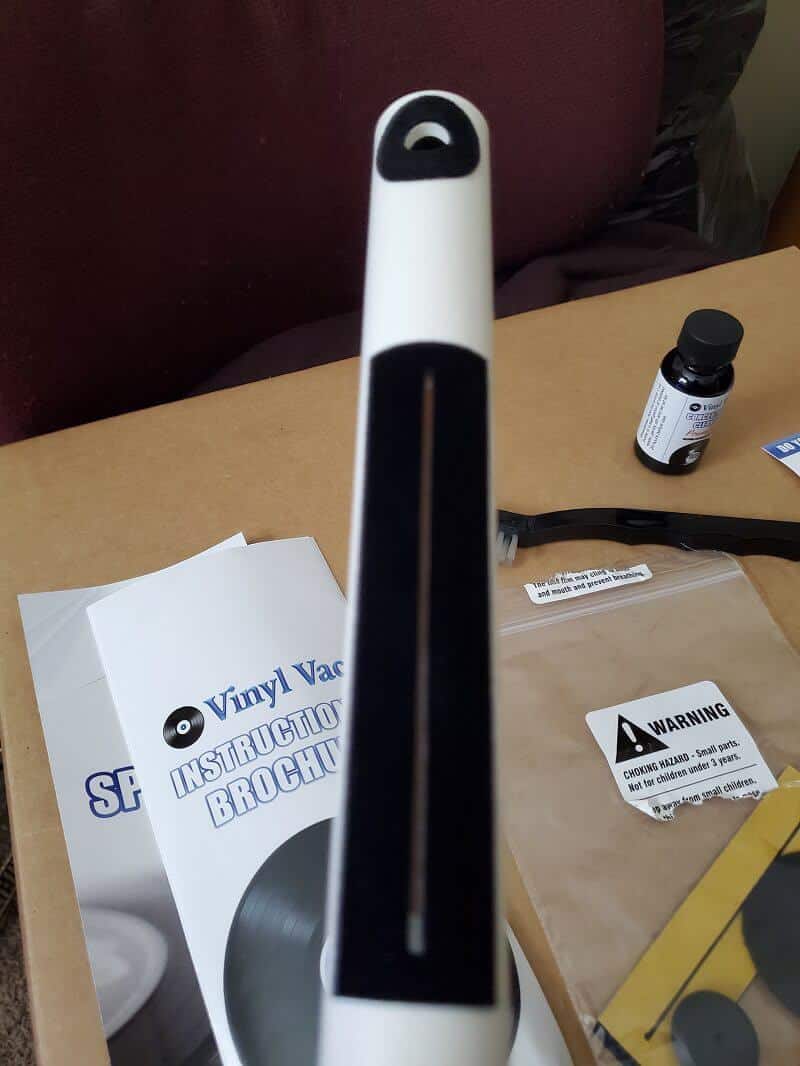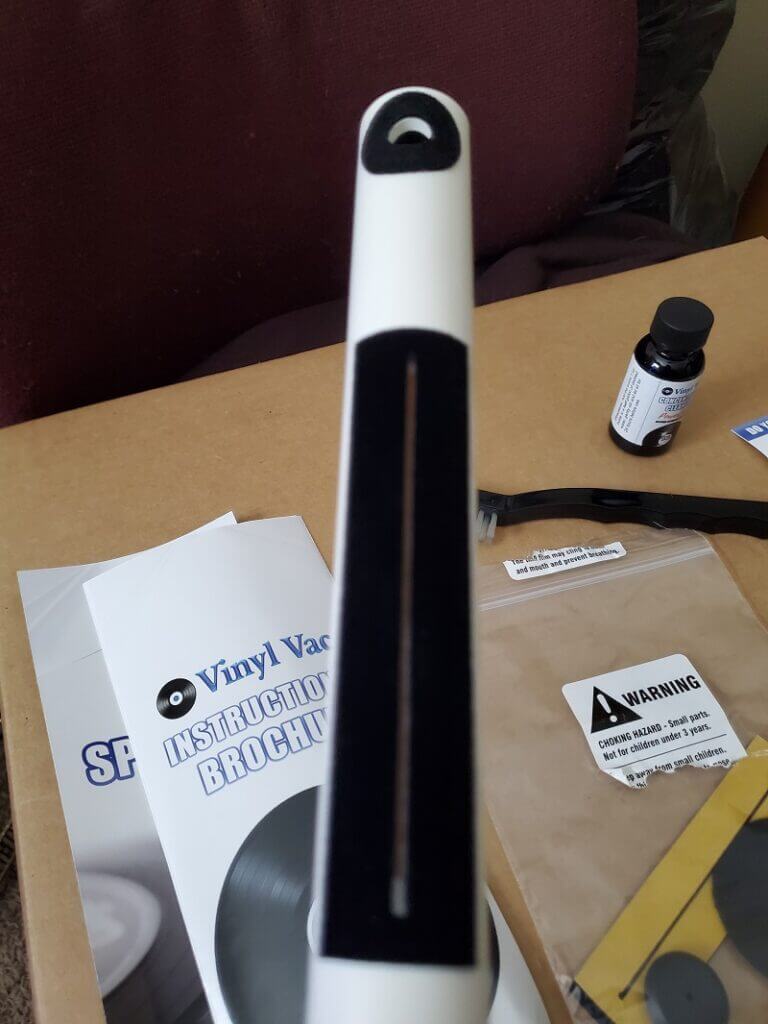 Tips On Using The Vinyl Vac
Always read and follow the directions included with the Vinyl Vac for how to properly use this system.
Vinyl Vac For 45 Records
Vinyl Vac also makes and sells a different version of the Vinyl Vac 33 the Vinyl Vac For 45 Records. This is designed and slotted for the smaller 7″ inch records. Check it out here, Vinyl Vac For 45 Records.
When You First Start Using The VV Use Records You Don't Care About
This is always good advice on using new equipment. Protect your valued vinyl and use something you don't really care about.
You know those really scratched or beat-up records that you own or the music you don't care about. For some, it would be a Herb Albert album (not me though, I actually like some of his work like the song A Taste of Honey) or an Oliva Newton-John Album (yeah, I don't care about her records).
This elevates the rookie mistakes and quickly gains some experience in the odd chance of a mishap on records you don't care about. No harm no foul. This also takes the jitters out of messing up cherished record or expensive records.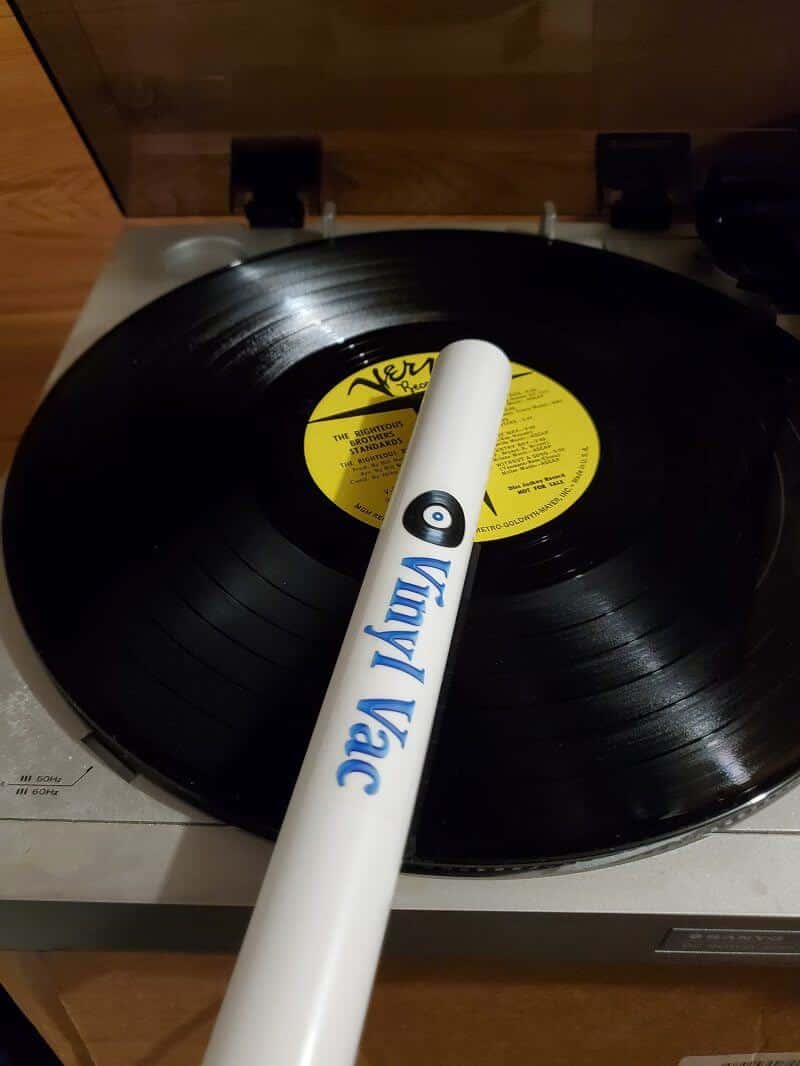 Clean Your Intake Pads After Every Use
The intake pads on your Vinyl Vac can become dirty after using them during a cleaning session. It would be in your best practice to take a few minutes afterward to clean and rinse the intake pads on the PVC vacuum wand with the supplied nylon brush. Then you will be set for your next cleaning episode.
This will keep it working right and avoid contaminating the next batch of records you clean.
2 Vinyl Vacs?
In order to avoid cross-contamination, you might want to invest in two separate Vinyl Vac products. One Vinyl Vac is used strictly for cleaning and one is for strictly rinsing after cleaning. This way you avoid getting dirt stuck to the felt pads contaminating the Vinyl Vac used for rinsing as dirt can lodge into the felt pads.
I would then write or label "cleaning" and "rinsing" on each of the Vinyl Vacs to avoid mixing the two up. Rinsing your records after you clean them with distilled water and then vacuuming off the excess water is highly recommended. This gets rid of any remaining cleaning solution and dirt.
This isn't necessary to use two separate Vinyl Vacs but it is a good idea especially if you are OCD about the whole cleaning process.
Get A Old Turntable Or Lazy Susan!
Never use the Vinyl Vac on your turntable that you use to listen to music on. A big no-no! After all, you are using liquids and you don't want those liquids to mess up your turntable. Plus this avoids potential wear and tear on your turntable as well. You could potentially wear out the bearing by applying pressure from the top.
Clean Your Stylus Too!
Now that you cleaned your records I would like to mention have you cleaned your stylus. A stylus can get pretty gunked up with dirt and debris too and it is just as important to sound quality as a clean record. I recently purchased a USB microscope and wrote a post about What Is The Best Way To Clean A Stylus. I show proof of the best way to clean it. Check it out. A must-see it to believe its results!
Wash The Cleaner Records First Then The Dirtier Last
If you are cleaning records that are both relatively clean and heavily soiled I would save the dirtier records to the end of the cleaning process to avoid cross-contamination to the cleaner records. This just makes the most practical sense.
While cleaning your records if you notice a particular put that record off to the side and say for the last one you clean.
Another Cheap Method Of Cleaning Your Records
If the Vinyl Vac is something you don't think would work there are other methods available for cleaning records. I also own a Spin-Clean record cleaner and have written a review of it here. It cost around $80.00 and is an old stalwart in the vinyl community. This is also a great little system that I also like.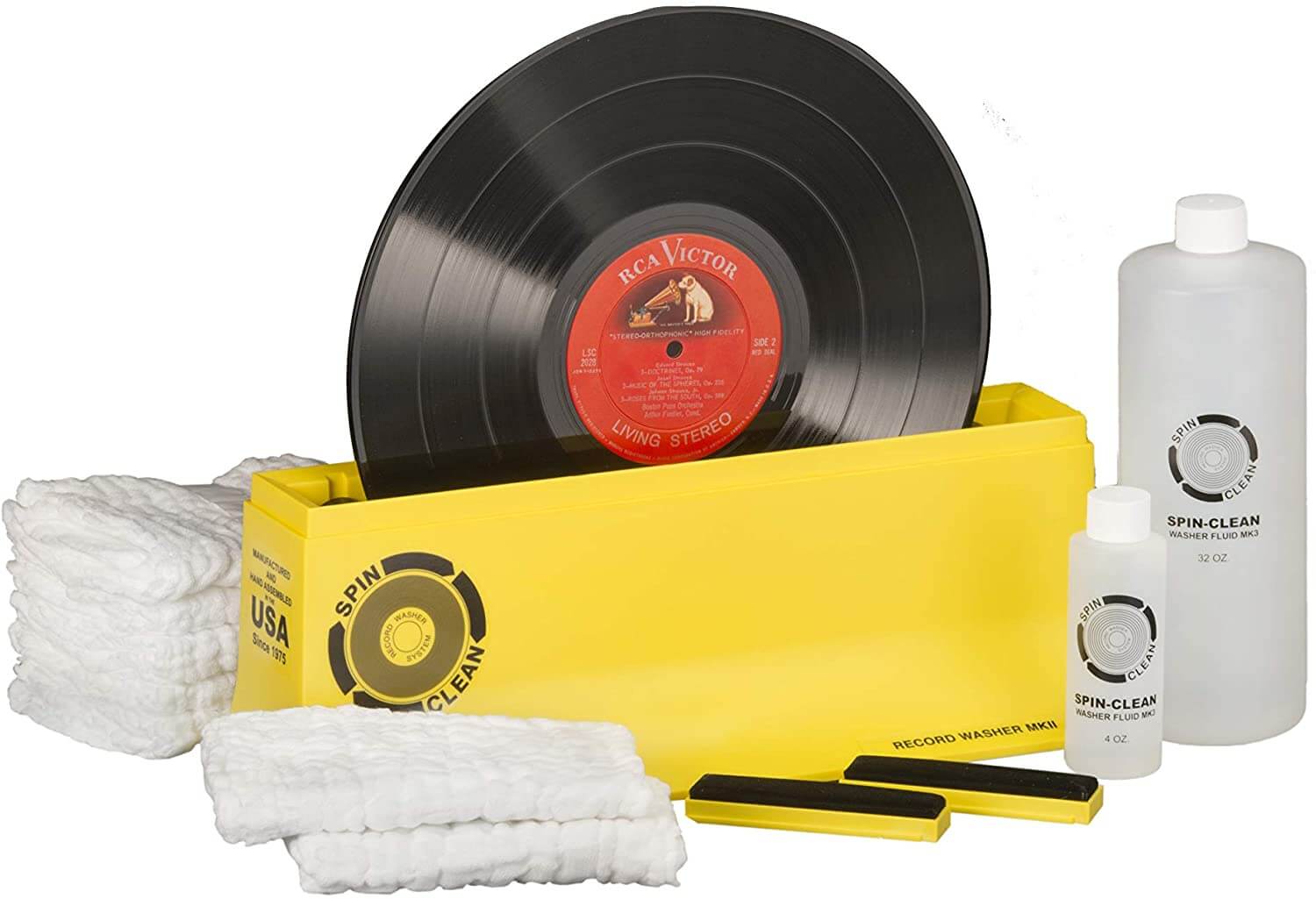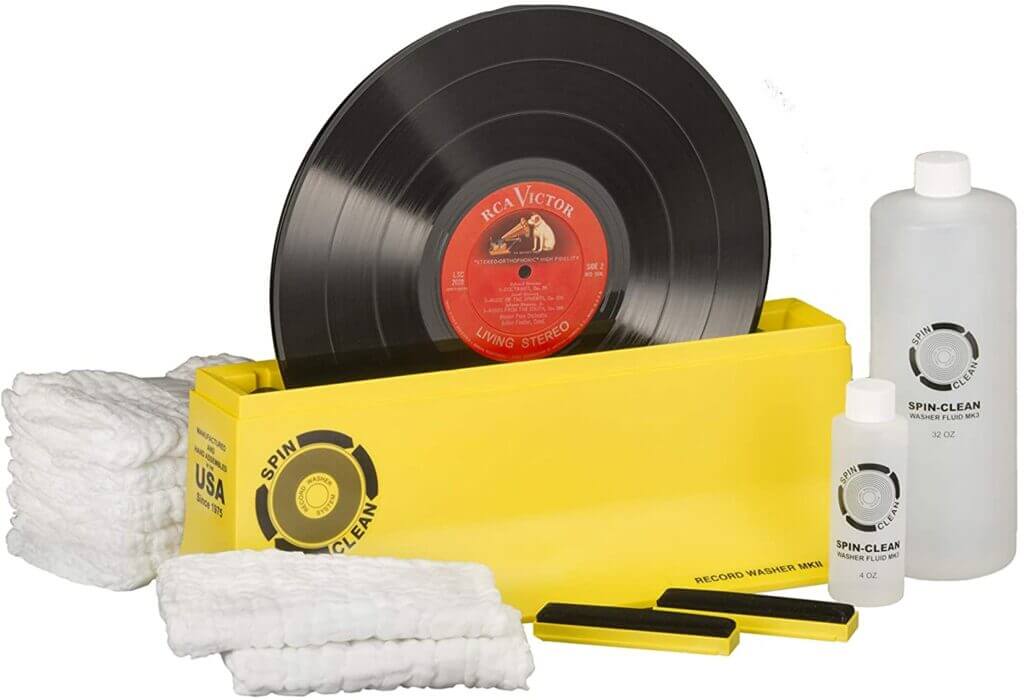 You can read my full in-depth review here, Spin-Clean Record Washer Review.
The Final Groove
A clean record will sound better and increase your enjoyment. Owning and listening to records takes work…unfortunately but true.
Cleaning your records is a must and for most buying an expensive vacuum system or ultra-sonic cleaner is out of the question. Vinyl Vac addresses this problem with a simple and practical answer that is pretty darn cheap with their Vinyl Vac Combo. There are drawbacks as well as advantages to using this system which I highlighted above. You will find in life there is always a trade-off, you just have to weigh those differences in your mind to determine if this is the right system for you to use.
As for me, the price is fantastic and after using the a few times and understanding it I came to the conclusion it is a decent system for cleaning your records. It is not perfect but for the price, it works great at cleaning the record.
For the price of a record at current prices give or take a few bucks you can have a vacuum system that will clean your records.